The foundations mural on Ridgway is about to be transformed by Melanie Caple and a team of four students from the Mirboo North Secondary College.
At a celebratory gathering at the space last week, Melanie Caple announced the winners of the mural design competition: Morgan Finnegan, Jett Gundy, Jobeka Siaman and Lily Smith.

The winners of the mural design competition, launched in July of this year, will be painting alongside Melanie, who created a colourful and contemporary mural reflecting our local flora and fauna. The design will remain a secret until the painting starts and incorporates Dennis Leversha's existing mural, as a link to this artistic heritage.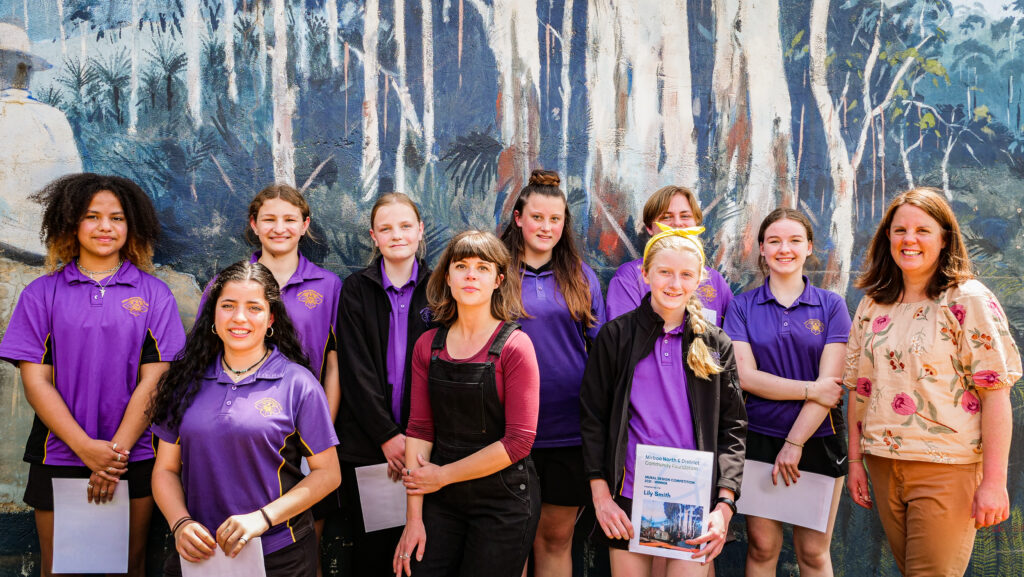 "Community Foundations are all about connection with place. This project allows art to redefine our connection with this particular space and complete this as a gathering place," explained Ruth Rogan, Executive Officer. "We were so excited to see students engage with this design project, which was assisted by Sue Wearne, Arts & Technology teacher at Mirboo North Secondary College."
The announcement of the winners was made by Melanie Caple, who spoke about her inspiration for the concept planning, whose inspiration she drew from each student.
'Seeing the maturity and creativity of the student's artworks inspired me to incorporate elements of them into my final design. They really responded so thoughtfully to the natural landscape of Mirboo North which directly relates to my own practice, so I like that they'll have a real ownership of the design and the wall upon completion.'
Runners up to the competition received $50 vouchers for Eckersley's Art Supplies, in recognition of their fantastic submission: Hayley Eden, Sienna Goicoa, Amaya Sande and Grace Joy.
Melanie spoke about her design while everyone enjoyed afternoon tea, supplied by Jimmy Jambs Pantry & Café.
The full group left with a painting shirt and overalls, ready to start the mural painting process on 6th December.

Watch this space!