On Monday 22nd May the Community Foundation awarded six $1,000 grants to local community organisations and distributed First Aid Kits to 10 more community groups with funds from the Mirboo North Pharmacy Sub-fund.
The Mirboo North Pharmacy Sub-fund was set up earlier this year to hold the $10,000 prize which the Mirboo North Pharmacy won, when it was announced as a winner of the Arrotex Community Pharmacy of the Year at the end of 2022.
"The Mirboo North Pharmacy would not have won Community Pharmacy of the Year without the support of our local community. We really appreciate the five hundren plus votes received, and all of the suggestions and enthusiasm for nominating recipients for the prize money,' says Tamara Teylor, Dispensary Technician at the Mirboo North Pharmacy.
"As only one organisation could be nominated for the $10,000 prize, the team at Mirboo North Pharmacy decided to nominate the Community Foundation. This meant that the donation could benefit more than one local community organisation," added Ruth Rogan.
"The Community Foundation was happy to set up a sub-fund to hold the $10,000 donation and to receive recommendations on how these funds could be distributed within the community."
Tamara went on to talk about the process involved. "We made a number of recommendations to Community Foundation about which organisations might be supported by a grant from the Pharmacy fund, based on the voting by the community, and our background in supporting the health of our community. We are delighted with the good use that the money is being put to across so many organisations."
The six grant funded projects are, BooFIIT for some new equipment, U3A, Mirboo North & District, for a new laptop, Mirboo North's Early Learning Centre for enhancements to the outdoor play area, Equip Church for the twice monthly food distribution program, the Wednesday Warriors to go towards a new vehicle for their volunteers and the Mirboo North Community Garden for their establishment.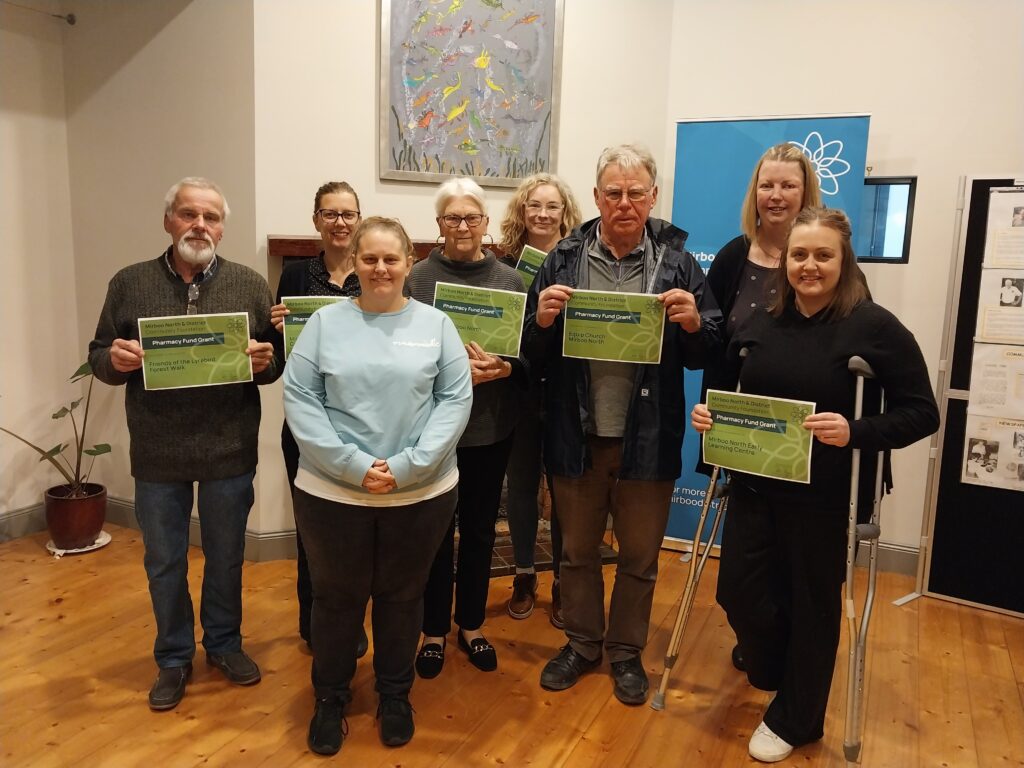 First Aid Kits funded through this sub-fund are also going to 10 more community organisations, which will make sure that these volunteer organisations have the materials to hand to reduce the severity of an injury and prevent infection when the unexpected happens.
If you missed out on a First Aid Kit this time round, we do expect to distribute a second round in the Spring – email us on info@mirboodistrictfoundation.org.au
If you want to find out more about how to set up a sub-fund for a purpose close to your heart, visit our Create a Fund Page here.