Arty Bras-"Good Golly Miss Brolly"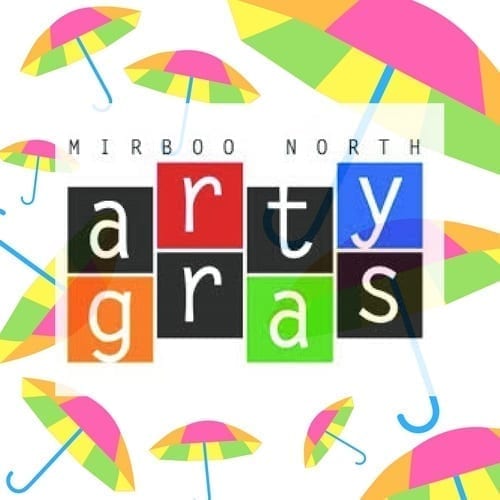 In 2010 the fun & quirky exhibition "Arty Bras" was formed. This began as a fundraiser for Breast Cancer, where several bras were donated to the community, to be decorated and displayed during the Mirboo Nth Arty Gras Festival over the Mother's Day weekend.
It was well received and was the beginning of many more years of fun exhibits. In 2011, I took over the role of organising this annual exhibition, deciding to give it a different theme every year. We have covered shoes, handbags, hats, gloves, buttons, gumboots, aprons & now this year sees the inclusion of umbrellas.
The idea behind Arty Bras is to showcase the work from anybody in the local community who wish to express their creative flair & have a bit of fun. So the entries can entail anything as long as it resembles the theme. It can be handmade from scratch or decorate an existing item…we have had shoes made from chocolate, handbags made out of books, Barbie inspired & decorated sombreros, glove monsters, garbage truck pictures made from buttons, farm inspired gumboots, and aprons made from nan's bits & bobs….the ideas are endless…and are totally up to you and your imagination!
Visitors to Arty Bras get not only to enjoy these marvelous creations, but also get to vote on their favourite piece. The influx of childrens' entries over the years has seen me extend the voting polls to an Open Section plus a Kids Section (12 years and under). Local businesses are very generous in donating prizes to both sections.
Over the years, Arty Bras' exhibition has been held in various buildings around the town, but is now a regular feature at the ArtSpace. The generous ArtSpace committee has offered their space up for the whole month of May, which is fabulous. Therefore the beautiful pieces will be exhibited long after the weekend is over, Wednesdays to Sundays 10am-4pm.
Arty Bras will officially open to the public at 10am Saturday 12th May with voting open on the Saturday & Sunday 10am-4pm. Winners announced after 4pm Sunday. All entries must be handed into ArtSpace by Sunday 6th May.
This exhibition relies on the amazing energy and creativity of our the towns folk…so get your thinking caps on, and we look forward to exhibiting a sea of brollies to brighten up our weekend!