Arty Gras – How to get involved?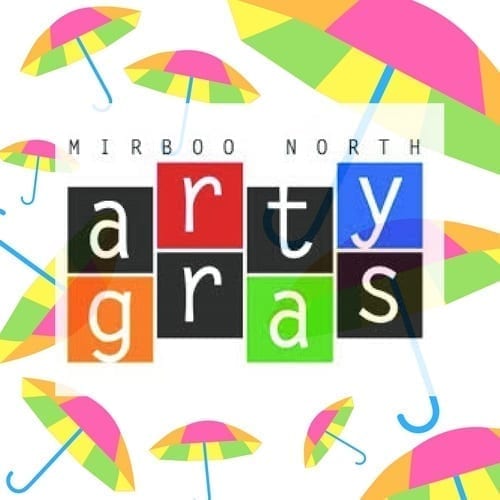 Arty Gras – How to get involved?
With Arty Gras not very far away (only 7 weeks!), now is the time of year for local groups and individuals to start thinking about how they'd like to participate.
Street Parade
Foremost of the activities to get into is our beaut street parade, which offers an opportunity for community groups, sporting groups, businesses and other organisations to get together, dress to a theme, and join the host of other groups putting on a show for the family members, friends, locals and visitors lining our main street.
The theme of the parade this year: 'ON THE MAP, OFF THE GRID'
This theme can be interpreted however you like, and we're hoping for a wide range of entries and costumes – these could be based around exploration, or navigation, or travel, or electricity, or sustainability … possibilities abound, so please get your thinking caps on and start planning your group entry! The parade will march up and down Ridgway on Saturday 12th May, from 11am to about midday. Invitations have gone out already, but if your group hasn't received anything yet, please get in touch with the committee via the Mirboo North Arty Gras Facebook page so that we can add you to our contact list and send you an entry form closer to time.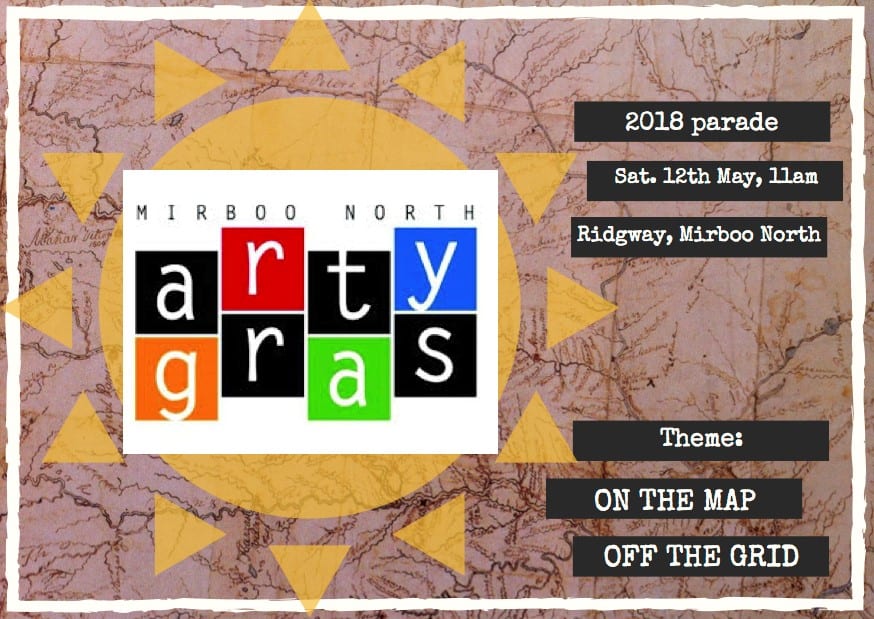 Map Competition
Another thing to start preparing for now – our children's map competition. We're encouraging kids to tuck into their art supplies and create a map. It can be a map of anything: their world, their country, their state, their community, their school, their home … whatever catches their imagination.
The competition is open to kids of all ages (pre-kinder through to secondary school), and we'd love entries to come from all parts of the wider district. Entries can be dropped at the Mirboo North Library, or at the Mirboo North & District Community Bank branch. They're due on Friday 4th May, and should include a name, age and contact details on the back of the map, as we will be awarding prizes. Maps will be exhibited on the afternoon of the Arty Gras Festival (Saturday 12th May) in the Centenary Room, St Andrew's Uniting Church.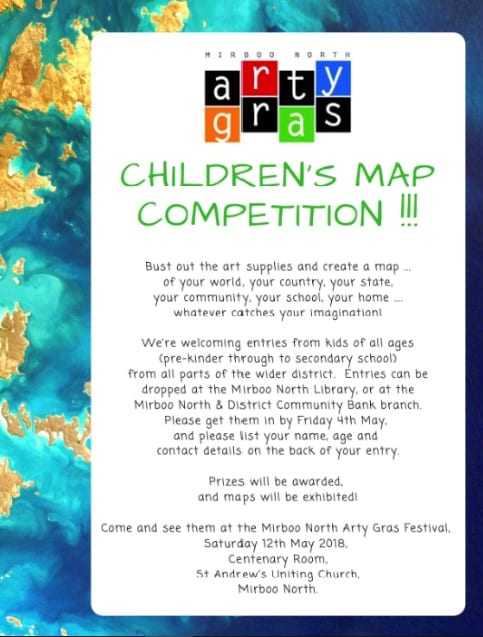 Workshops
And we're still only in the warm up to Arty Gras! As we get closer, watch for the workshops that will also start to pop up. First will be the drama workshops a week before Arty Gras, on Friday 4th May, which will allow participants to contribute to Mirboo North Theatre Group's production "Spoken Word". Participants will then perform with the theatre group at 8pm on Arty Gras Saturday, at the Baromi Centre. Get onto the Arty Gras Facebook page for more details.
The rest of the workshops are on Festival Saturday: St Andrew's Centenary Room will be host to a half hour geocaching workshop, which will give participants the skills to participate in a treasure hunt around other Arty Gras events over the course of the afternoon. Over at the Grainstore you will see the return of three musical workshops: marimba madness, open acoustic jam, and sing your heart out.
Follow the Arty Gras Facebook page to receive more details as they emerge. Watch also for details of all the other free entertainment that will be offered on the day: music in the park, roving performers, bouncy castles, pony rides and face-painting!
Gotta love Arty Gras!
Thomasin Bales, Mirboo North Community Project Officer