A new exhibition arrived today in the courtyard at the Co-space.

Nine posters showcasing some photographs from the beautiful book from the Celebrate Her! Stories of South Gippsland Women project. This project depicts some of the diversity and strength of women from many walks of life in South Gippsland.
To welcome the Celebrate Her! exhibition and to mark International Women's Day, the Community Foundation are holding a morning tea on Wednesday 8th March at 10.30am at Co-space. Everyone is welcome to come along to the morning tea.
We'd love you to see the exhibit and look forward to a chat over a hot cuppa and cake.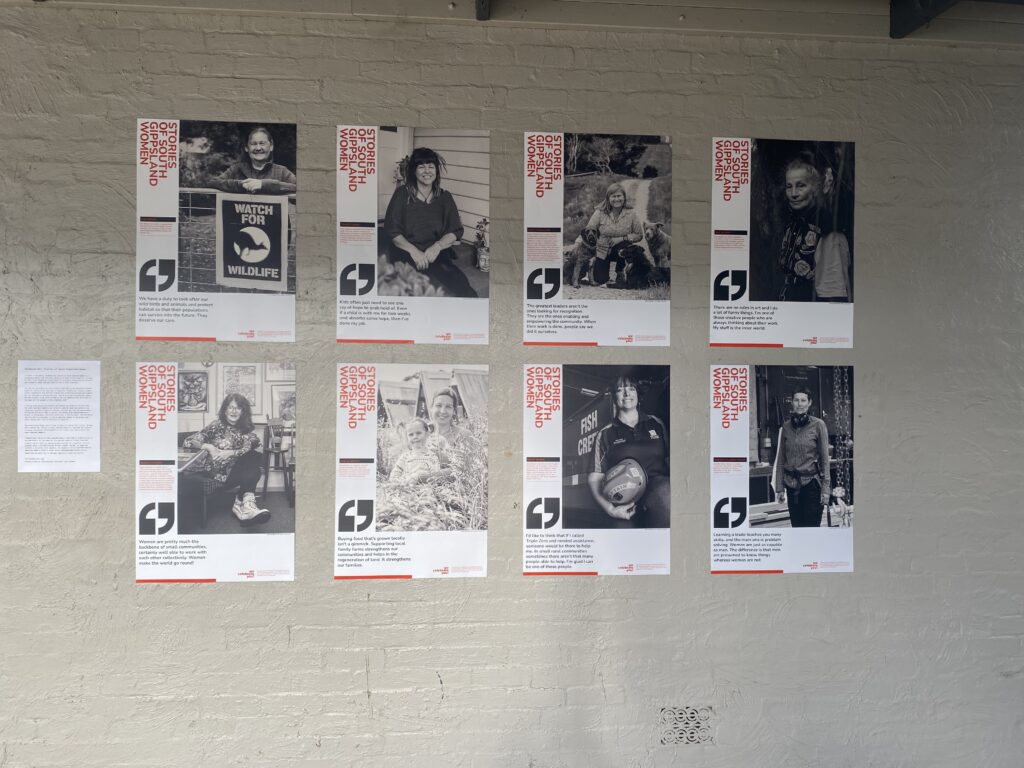 About the Celebrate Her! project |
The Celebrate Her! project was launched a year ago this week, at a concert presented by Prom Recitals. Salon Project performed at this concert, showcasing the works of female composers, marking International Women's Day 2022. South Gippsland local, Michelle Gordon AC, Justice of the High Court of Australia, opened that concert and challenged the audience to make International Women's Day more relevant to the lives of women in our own community.
A small working group from Prom Recitals (Sarah Westwood, Karin Ruff and Karli Duckett) joined with Michelle to launch the Celebrate Her! project, inviting the South Gippsland community to nominate women they wanted to see celebrated.
A year later and 23 profiles of South Gippsland women have been collected and collated within a beautiful book, while posters of photographs are being exhibited in a number of places around South Gippsland. The Community Foundation is delighted to host these photographs, mere snapshots of nine incredible women featured.
Books are also available for those who would like to read the full profiles of all women involved.
The project is the product of hundreds of hours of volunteer efforts, by the small group of women mentioned above, who commissioned other local women running creative businesses, to assist with the photography (Karli Duckett), design (Anne Miller and Anita Belia) and editing (Sally-Anne Watson Kane) of the book. The collection was then published by Michelle Gordon AC and is available in return for a donation.
The donations will go to support an award-winning program supporting women operated by Manna Gum Community House, Foster.
So, what's next? |
So what's the challenge for 2023? It is the hope of the Celebrate Her! team that this project will encourage more stories to be told and increased acknowledgment of the richness that women bring to the South Gippsland community.
We encourage you to share these stories and images on social media by tagging, #celebrateher.
This exhibition will be on display for the month of March and the books will be made available at Co-space with a donation box.