Celebrating the Arts in Mirboo North on Mother's Day Weekend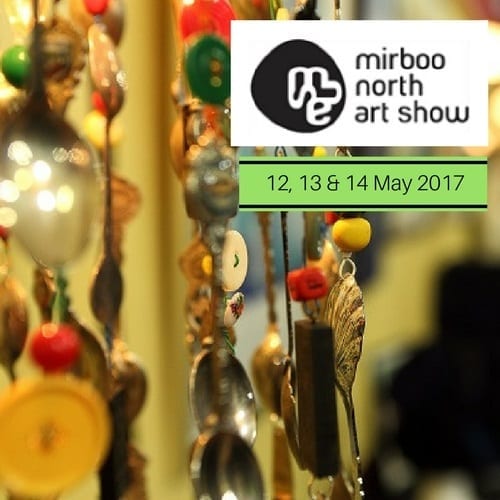 Now that Easter has passed in a blur of chocolate, the nights are closing in and the weather is getting cool, it is time to look forward to one of the highlights of Mirboo North's festival calendar: The 36th Mirboo North Art Show and the 10th Arty Gras festival. This celebration of the Arts takes place each year on Mother's Day weekend (12th – 14th May), with the proud support of its Major Sponsor, the Mirboo North & District Community Foundation. As always, it is a celebration which has something for everyone.
Friday 12th May
The weekend kicks off at 7.30pm on Friday evening (12th May) with the Gala Opening of the Art Show. The night will include art, prize winners, the auction of the Primary School's kids art works and live music, accompanied by canapés and drinks. The tickets for Opening Night are on sale now and if you pre-purchase at the Mirboo North Primary School, the ArtSpace or the MN & District Community Bank, the cost is $25 a ticket. You can also buy a ticket at the door on the night for $30. Each ticket includes two drinks poured by the friendly staff of the Grand Ridge Brewery. As always, there will be a courtesy bus from the Shire Hall to the Brewery at 11pm, where the live music will continue.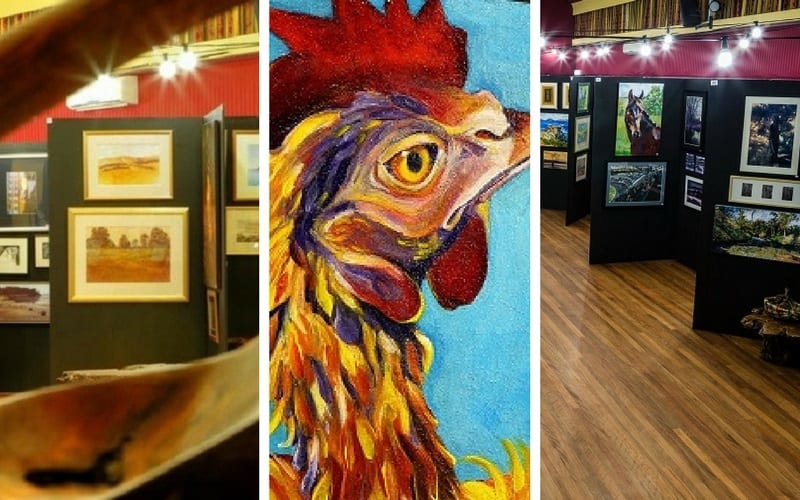 Saturday 13th May
Arty Gras on Saturday 13th May is packed with exciting free activities which will cater for everyone's taste: there will be the traditional craft market all day in Baromi Park, together with a feast of music from a variety of bands to enjoy while you browse; and for the kids, the Magic Theatre is coming to Mirboo North with their Circus Confabularium! Join the circus for the day (or at least from 9am to 2pm J), select from the treasure chest of dress ups, hats and wigs, and learn how to use hoops, juggling balls and clubs, devil sticks, poi, staff, skipping ropes and teeter boards….
Always a highlight of Arty Gras for many families and community groups is the fabulously colourful Arty Gras Street Parade from 11.00am. The theme this year is 'Life is Art – Art is Life' and no doubt it will have its usual array of amazing costumes, music, vehicles and performers to celebrate its 10th year. If you have any queries, please contact Liesl Reymers (0428 147 722).
Whilst still in costume, you might want to avail of the Papermoon Photo booth, where you can have your photo taken in colour, black and white or sepia. And if you are not in costume, there is the option of donning some vintage clothing and accessories provided for you!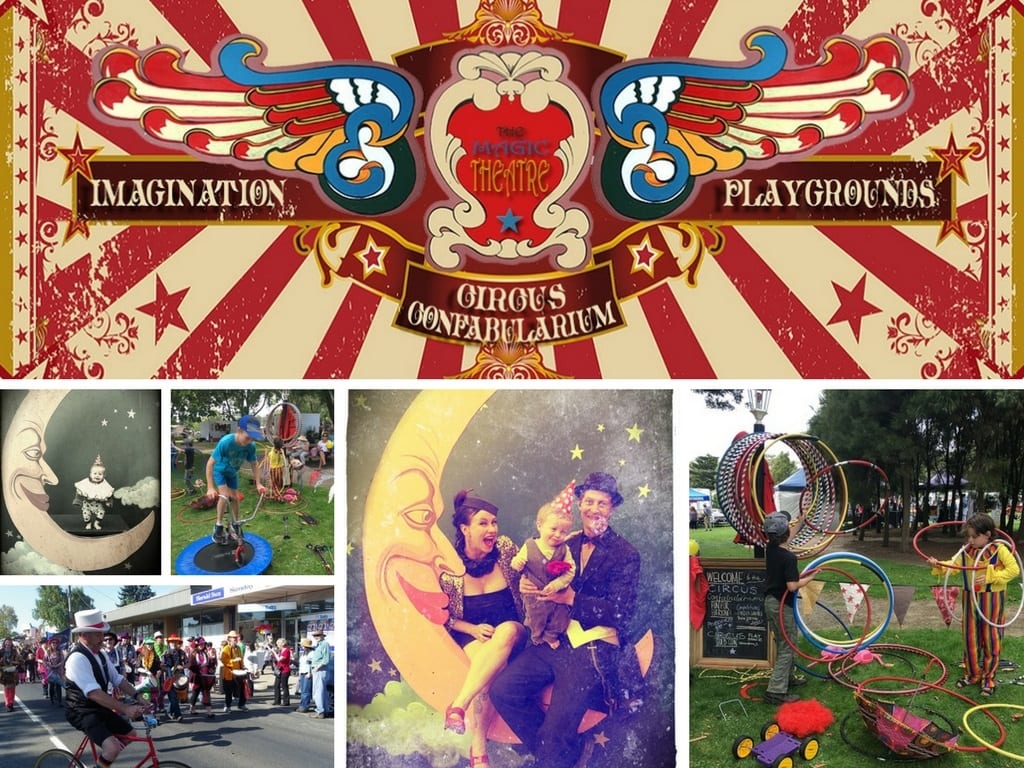 The Art Show, which re-opens at noon, will also be a hive of activity until 5pm on Saturday. Find out who has won the Best Exhibit Award or see the Primary School Kids Art Works up close, there are many hundreds of art works to view. Between 2pm and 3pm, you can browse peacefully while your children are entertained in the Marquee by Miss Sparkles. She will be holding a party, with singing and dancing for kids both big and small.

On both Saturday and Sunday, in the marquee at the Art Show, you can take a moment to rejuvenate body and soul. The GippslandMassage and Wellness Centre will have several practitioners offering mini-treatments in kinesiology, massage (shoulder, neck, head…), cranial sacral therapy, Reiki and other energy healing, and Psychic card reading. The Massage and Wellness team will be there from 12 noon to 5pm on Saturday and from 10am – 4pm on Sunday. If you would like to book a time in advance, or perhaps you might like to get your Mum a gift certificate for a mini-treatment for Mother's Day, then please contact Heike on 0432 177 868.
After the Parade and Welcome To Country, the Grainstore is host to a selection of musical events, from Marimba Madness at noon, to an Open Acoustic Jam session at 1.30pm and then Community Singing from 3pm. Everyone can make music at Arty Gras and all sessions are absolutely free. No bookings are required but you can get more info from Jane (0400 053266)
From 9am to 2pm, at the Baromi Centre, the Mirboo North Night Owls CWA will be hosting a Cake Competition for school age kids (Grade 3 and under, Grades 4-6 and Year 7-12) and an open section. More details to follow!
The ArtSpace is delighted to be hosting the Arty 'Aprons' Exhibition. The 'Arty' objects exhibition has been going for quite a number of years, starting as Arty Bras, and this homage to the humble pinny will be on display in the Exhibition Room @ Artspace from 12th May through to the end of May (opening hours Wednesday through Sundays 10am – 4pm). If this gets your creative juices flowing, you can make or decorate an 'Arty Apron' and enter it in the exhibition. For more information, contact Kylie on 0438 682 800 or akcannizzo@gmail.com.
The ArtSpace will also be hosting an exhibition of the art work of the Youth Art class who have been working with local artist Yvette Atkins to explore and enhance their mastery of a variety of artistic techniques.
Also on Saturday the Primary's School's dedicated Chaplaincy Committee will hold their Bric-a-brac, Plant and Book Sale between 9am and 3pm at St. Mary's Church Hall. Not only will you be able to get a bargain, but this is a great spot to recharge the batteries with Devonshire Tea and refreshments.
That night back at the Baromi Centre, Mirboo North's theatre group are putting on a fabulous dining and entertainment experience you will never forget: The Restaurant at the Centre of the Universe. Tickets cost $30 ($25 concession) and bookings are essential. For more info and bookings, call Kate on 0428 827 655.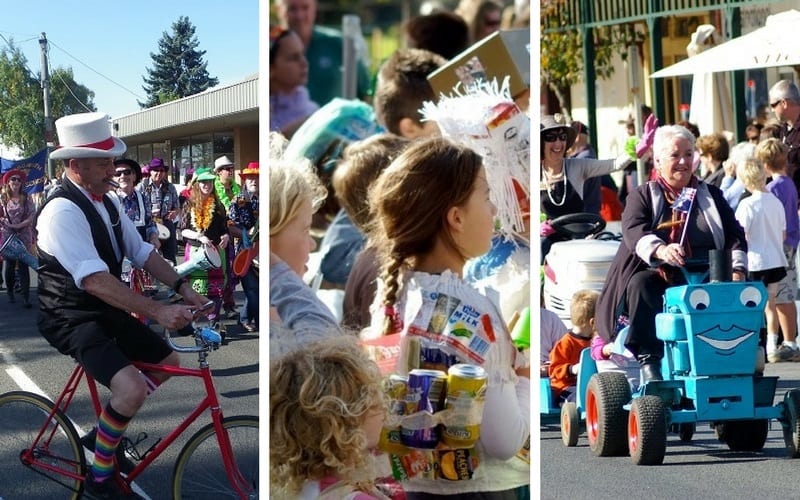 Sunday 14th May
On Mother's Day, Sunday 14th May, the celebration of the Arts will be focused in the Shire Hall and adjoining Marquee with the Art Show re-opening at 10am. There will be a delicious array of sweet and savoury nibbles for both morning and afternoon tea. During the morning, the children from the Primary School will be drumming up a storm, then the remaining kids Art Works will be auctioned at 11am. This much anticipated event is always exciting – or nerve-wracking for those who wish to bring home their children's art works. Later on in the afternoon, there will be live music: Ricky Allan will be playing Piedmont Blues music between 1.30 and 3.30pm.

What more could your mother want on Mother's Day than a mouth-watering morning or afternoon tea, surrounded by beautiful art works and live music. A massage, perhaps? The wellness team from the Gippsland Massage & Wellness Centre will also be in the Marquee throughout Sunday (as detailed above) and perhaps after a weekend of celebrating, making music, viewing art and learning circus skills, it will be time for some alternative therapies to renew body and soul.
Now isn't all that activity and celebration enough to brighten up the whole month of May? Come and celebrate the arts with us in Mirboo North!