2016 Community Grant Recipients
Mirboo North & District Community Foundation
Supports 9 New Local Projects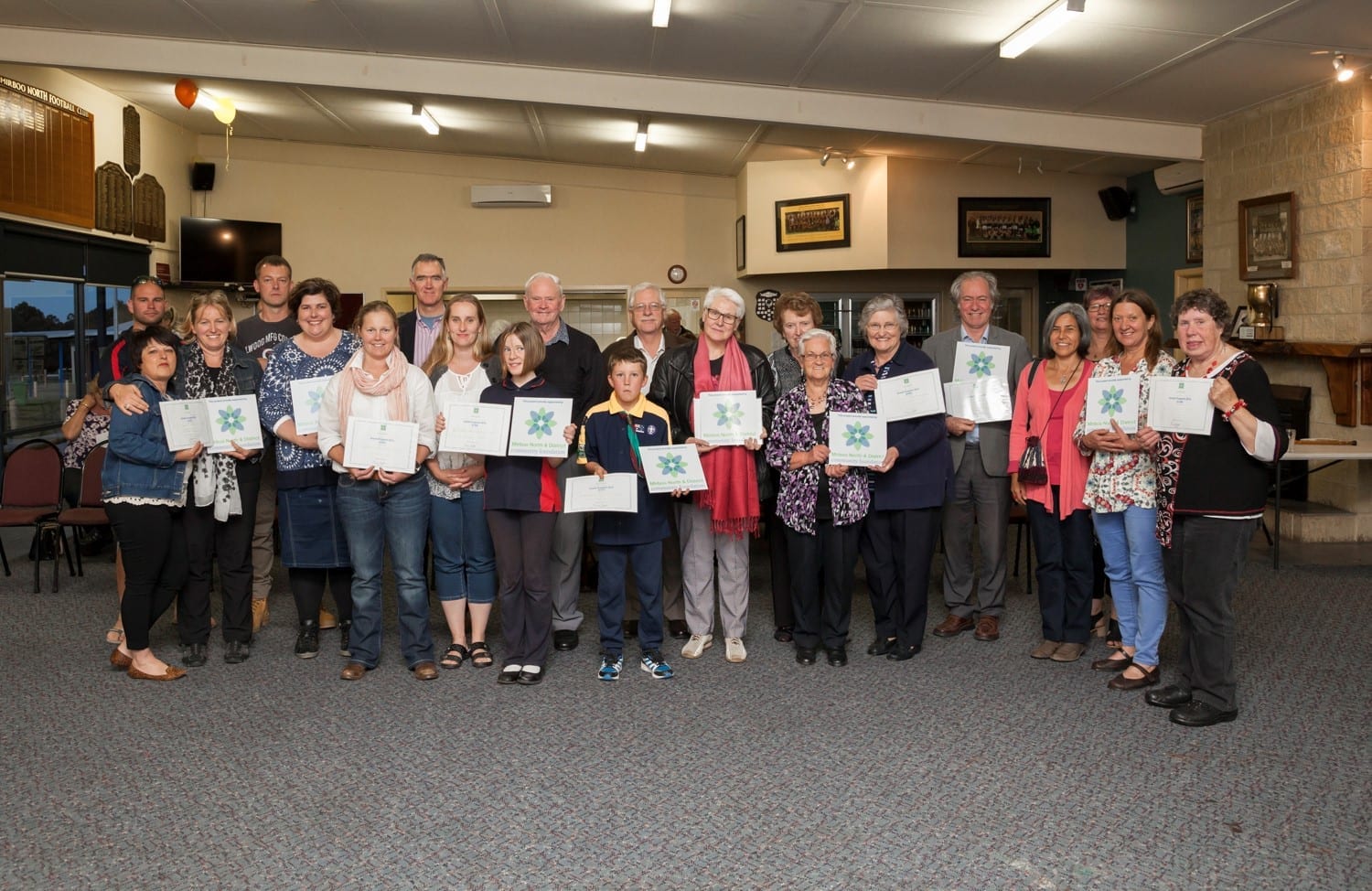 It is always an exciting time of year for us, reviewing the applications for grants that come in from across our district. The Grants Review Committee, including external appointees, reviewed requests for $102,000 with only $45,000 for distribution. Even more exciting is announcing the successful recipients, and on Monday 28th November, we awarded grants totaling $35,399 to 9 local community organisations.

Boolarra Pre-School – Project: A Fantastic Fort For All – $3,500
With our grant, the Boolarra Preschool Committee and community will be creating a vibrant and all inclusive play area for their children. They will be replacing the old fort structure (30 years old) with an aesthetically pleasing play area which provides all children access to a stimulating and vibrant play zone. The new fort structure will consist of an 'Ultimate Fort Playhouse with a tornado slide, a tic tac toe feature, a Country Cottage with ramp access and additional play features. There will be ramps to allow wheel chair access to most areas of the play zone, roofing to provide sun protection and an all weather play area. The new play area will be complimented with new landscaping to provide wheel chair accessible pathway and a soft fall zone around the structure. Latrobe City Council have agreed to help with providing materials for the landscaping, which will be completed by parent and community volunteers.
Boolarra Primary School – Project: Wheel-chair accessible play-ground equipment – $5,000
Boolarra Primary School aims to have an all ability swing installed in the play-ground at its school. This idea arose following a request from the Prep/1 class to the Junior School Council. The younger students explained to their JSC representative that they all had equipment to play on during outside time but their classmate Cooper did not and they didn't think this was fair. Cooper is in prep and has severe cerebral palsy which sees him confined to a wheelchair and unable to control much of his movement. JSC, staff and others have fundraised or provided funding. Our grant brings them closer to their fundraising target and we wish these young philanthropists all the best reaching this target during 2017!
Dumbalk Progress Association – Project: Visiting Service Provider Suites final kit-out and set-up – $4,500
The Dumbalk & District Progress Association Inc, has recently completed a refurbishment of the former kindergarten and infant welfare centre, now the Dumbalk Community Centre. Our grant is supporting the finishing touches to the project by providing the funds to install reverse cycle air conditioning units in each of the main rooms in the suites to be used by visiting service providers. These units will ensure that the suites are heated or cooled appropriately for the users of the space, making the space comfortable for the service providers using the rooms, and equally importantly for their clients.
Mirboo North Art Space – Project: Community Access Workshops and After School Art Program for 2017 – $4,200
Mirboo North Art Space is a community owned and operated arts hub, which has a major focus on community engagement. Our grant will support an after school Arts programme for children aged 9-14 approx, as well as 10 free workshops covering various artistic skills to the Community. Our support ensures that children and adults from all parts of our district can access and learn some skills from local artists, building self confidence as well as interest in the Arts.
Mirboo North Community Shed (Auspice for Friends MN Aged Care) – Project: Health and Wellbeing assistance for aged care residents – $5,000
Whilst many activities at the Mirboo North Aged Care Facility are provided as part of their residence, some outings and events cost extra. Therefore some residents can be disadvantaged when it comes to attending or participating in outings and events through financial hardship. Our grant will help provide funding for events, outings and extras for these residents.
Mirboo North Scouts – Project: Portable marquee shelters – $2,319
The 1st Mirboo North Scouts and Cubs are often out and about camping en masse and while for everyone, they have not had shelter for cooking, eating and other group activities. Our grant will be used by them to purchase two long life portable marquee style tent shelters, and will provide shelter for both the Cubs and the Scouts from sun, wind or rain during group activities.
Thorpdale Recreation Reserve – Project: A Safer Boundary for All – $7,500
Thorpdale Rec Reserve have been working on a project to replace the Boundary fence around their playing field as the existing fence is rusting away in many places. This is aligned with the Baw Baw Shire Draft Master Plan for Thorpdale, which Shire is also providing funding. Phase 180 metres of fencing together with a concrete mow strip to save on maintenance. The project is costing over $55,000 with money being raised from other grant providers and funds raised locally. We look forward to seeing this safer boundary being put in place in 2017, a project which benefits the whole community as well as all its visitors.
VIC Mens Shed Association – Project: Regional Training Program for Victorian Mens Sheds – $1,000
The VMSA is piloting the roll out of training to Men's Shed volunteers and leaders across West and South Gippsland, which training would address needs related to mental health, leadership, shared knowledge, mentoring, socialisation, inclusion and collegiality. The aim of this training is to enhance the offering that local volunteers in Mens Shed can provide for their communities across the region. This is a costly project and VMSA has some co-funding from another private philanthropic foundation.
Yinnar Community Garden – Project: Amphitheatre steps and Workshops – $2,380
The Yinnar Community Garden has been built through the hard work of volunteers to provide a space to engage the community and share skills. The amphitheatre steps are the final piece in its construction, connecting the Gazebo and the central mosaic area, which together will provide an outdoor auditorium type facility set in the centre of the Yinnar Community Garden. The facility will serve as an outdoor classroom for Educational Talks on Sustainable Garden Management. Our grant will support the construction of the Amphitheatre steps as well as four workshops to engage the community (with a focus on education for youth).