Last Wednesday, the Community Foundation announced its education support awards for 2023.
Eight local students beginning courses at University and TAFE this month, received awards to assist in this transition.
"The Education Support awards are aimed at supporting the upfront costs students face in taking up University and TAFE courses – they can cover everything from laptops to books or materials, from bonds to travel expenses," said Rob Kiddell, Chair of the Community Foundation. "This is the tenth year of the program and over that time more than $200,000 has gone to almost 100 students."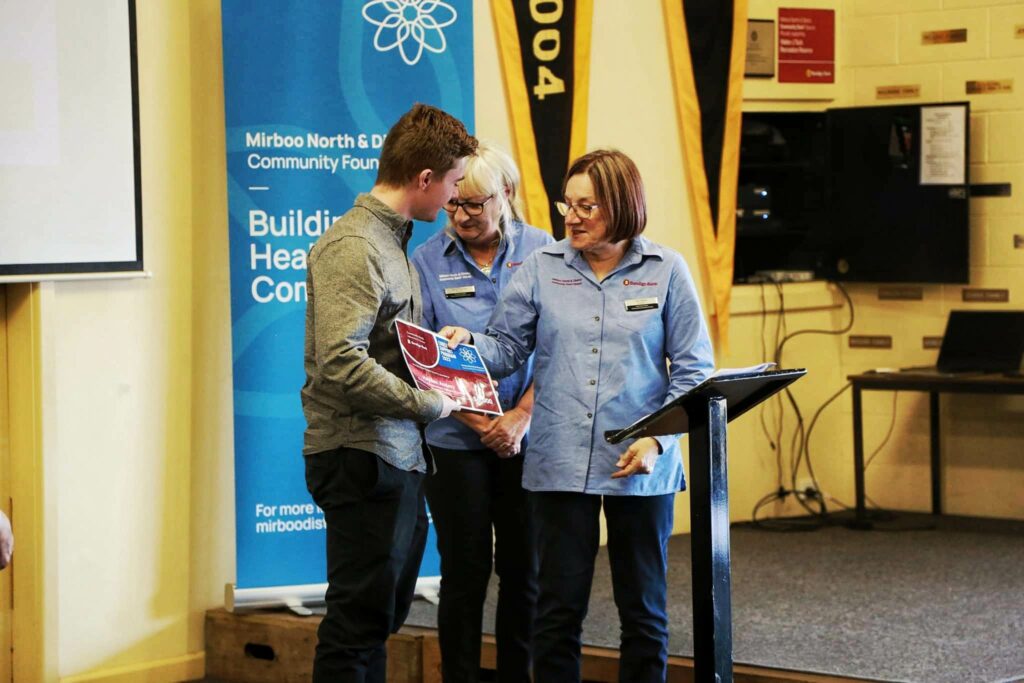 Rob noted that the Community Bank Mirboo North & District, has been a strong supporter of the Education Support Program from its inception, including setting up a perpetual fund within the Community Foundation, whose earnings now go into the program each year.
"In addition, for the second year the Community Bank has generously sponsored a new two-year Education Support award for two students heading to University," said Ruth Rogan, Executive Officer. "These students will receive financial support of $3,000 in their first and second years of their University Course – a total of $6,000."
At the awards evening Jan Head and Marg Thomas, Chair and Vice-Chair of the
Community Bank, Mirboo North & District, took the opportunity to give these awards to Hayden Anders and Jorja Oddy.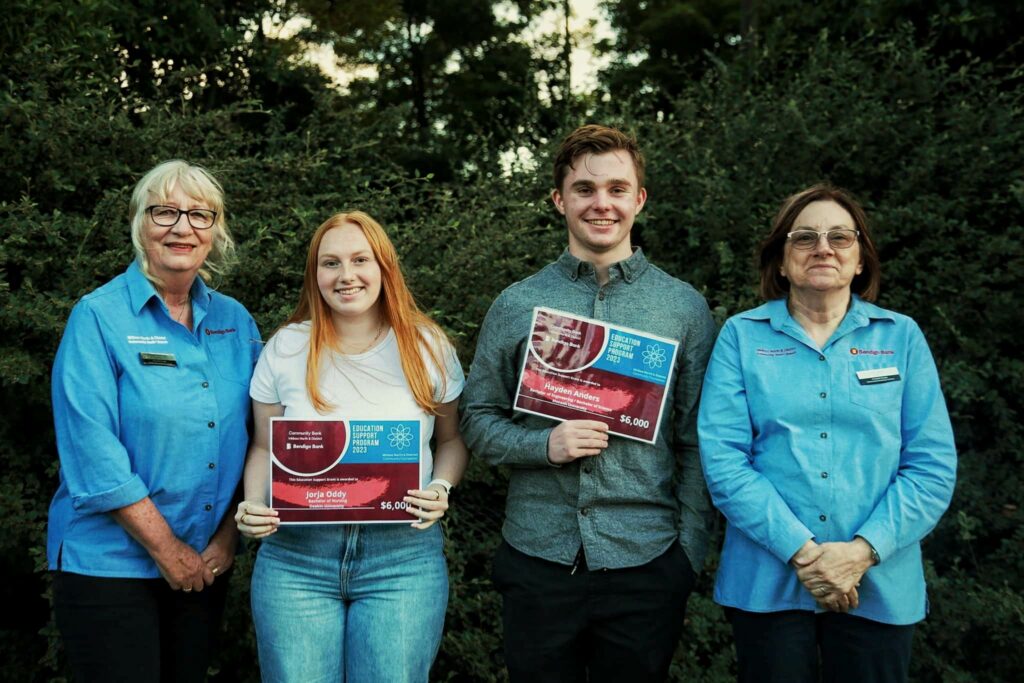 "The Education Support Program does a wonderful job of supporting local students taking the step into University or TAFE. The Community Bank is delighted to be able to support the program and local students," explained Jan Head.
Rob Kiddell and Diana Mueller also congratulated students and gave awards to Eli Wright, Rosie McNamara, Carlene Seales, Nikita Giardina, Liam Williams and Flynn Burgess Pincini, who are taking up courses in nursing, engineering, science, business, IT, childcare and beauty therapy.
It was emphasised that these awards are not only about financial support, but that they reflect the support of the community in the education of local young people.
In addition to financial support, the Education Support Program provides support for local students facing other challenges involved in this transition, like moving away from home and their existing support networks.
"In collaboration with Youthrive Victoria, we give local students access to rural youth network, a peer-to-peer mentor and a rural youth leadership program. We are delighted that Hayden Anders and Flynn Burgess Pincini will take up these opportunities in 2023," said Ruth Rogan.
The students and parents gathered for the awards evening had the opportunity to hear from two different speakers about the journey ahead. Angelo Saridis, newly appointed Executive Officer of the South Gippsland and Bass Coast LLEN, kept everyone guessing about his own journey and had some great tips about future thinking.
Local student and alumni of the Education Support Fund in 2021, Chloe Palmer, also shared some practical tips on how to survive the first few years of student life – everything from buying groceries to reaching out to your lecturers for feedback. Chloe, who is doing a Bachelor of Design (Animation) at RMIT, was funny and heartfelt, and her final message to the students, who face this exciting next step was, 'be kind to yourself'.
If you want to find out more about the Education Support Fund, visit our website: www.mirboodistrictfoundation.org.au/apply-for-a-grant/education-support/