Community Leadership Forum – Mirboo North Secondary College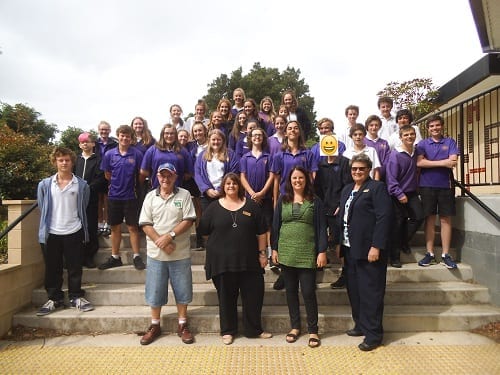 As part of the Year 9 Community Breakout program, the Mirboo North Secondary College has been organising a number of community forums for the students. A Student Leadership Forum took place in February, a Community Leadership Forum was held on Friday last and next term there will be a Business Leadership Forum. The aim of these community forums, organised by Rebecca Woodall and Allen Riseley is to showcase the local community to the Year 9 students, helping to instill in them a sense of community and belonging.
As part of the Community Leadership Forum on Friday last, March 24th, a range of community members were invited to the school to speak to the Year 9 students about their involvement in the local community, what organisations they are involved in and what it means to them. The Year 9 students then asked a range of questions to the speakers to tease out the nitty gritty of how the individuals got started, found support, what they think the future of Mirboo North looks like and much more besides.
First to speak was Paula Calafiore, Primary School teacher who recently organised the Deb Ball for the Mirboo North Football Netball Club. She noted that much of her volunteering had come from her involvement with young people, and she was passionate about ensuring that young people in a rural area were able to access the same opportunities that children in cities could. In response to a question from a year 9 student she noted that she had been volunteering since she began teaching more than 20 years ago, starting with the Art Show Committee. She has also helped organise numerous events at the MN Pool, from idol to movie night and beyond, as a committee member of Friends of MN Pool. More recently, Paula outlined her part in the reinvigoration of the St Paul's festa into the highly successful food and culture festival, the Mirboo North Italian Festa. She is already in planning mode for year 3! In summing up, she noted that getting involved in the community is all about finding out what you are passionate about and putting energy behind that, which has benefits not only for the community but also for yourself and everyone involved.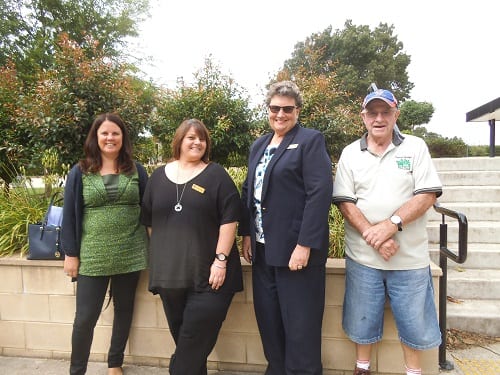 Next up was local, Neil Trease. Neil outlined to the Year 9 group that his first volunteer role was back in the late 1950s when he took on a role with the Mirboo North Scouts. That is a remarkable 60 years of volunteer service for the Mirboo North community! From Mirboo North Scouts, Neil was involved in Apex for many years, and more recently he is a key part of the Cemetery Trust and the Wednesday Warriors, which as he explained is a term given to a group of dedicated volunteers by Russell Broadbent, who not only look after the Rail Trail, but also the Lyrebird Walk. When asked by a year 9 student what sort of community group did he think was needed in Mirboo North, he spoke about the Youth Club that had been going in years gone by, and that he felt there was still a need for a youth organisation or space.
After a short break, where the students had an opportunity to discuss between themselves, Maxine Kiel was next to speak. Maxine spoke about her move to Mirboo North more than 20 years ago, and how volunteering with community groups had helped her connect to the local community. Her involvement has been related to her twin passions for enhancing the business and tourism of the district, as well as her passion and commitment to the RSL. Maxine outlined her current involvement with Mirboo Country Development and Prom Country Regional Tourism, both of which have worked tirelessly to promote Mirboo North and the region as widely as possible to the benefit of the whole community. In response to a question, she noted that both her Mum and Dad had volunteered in her local community in Sydney, growing up, and she must have caught the bug. Maxine has more recently been elected as a Councillor with South Gippsland Shire, and she noted that she has had to step away from some of her volunteer commitments, but she is honoured to be able to represent the local community in her current role.
Finally, Ruth Rogan spoke about moving to Mirboo North from London with her family just over four years ago. It was the strength of community in Mirboo North, which attracted them to settle here, and getting involved with the community helped them develop strong community connections. Ruth spoke about her involvement in evolving the Artspace, a community hub for the arts, from Eva Hosie's Artisan Store. She noted that it was her passion for being able to shop local for beautiful and unique wares made by local artists and artisans which had encouraged her to get on board. More recently she explained that she is motivated by the Artspace's ability to engage all ages and parts of the community in accessible workshops in the Workshop space renovated last year.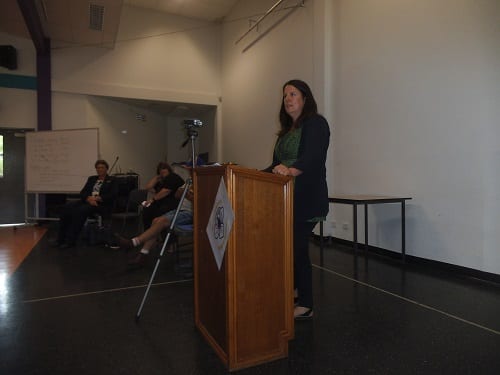 Ruth then went on to talk about how her involvement in the community had encouraged her to seek work in this area, rather than in the legal field of her training, and that she had started as Executive Officer with the Mirboo North & District Community Foundation. She outlined the story of the Community Foundation to the Year 9 students: that it had come from the sale of the community owned Aged Care facility, which had come from significant funds raised as well as volunteer efforts to build and operate the facility from 1994-2008. The community owned Aged Care facility had in turn had come from significant funds raised and the volunteer efforts of the community over decades to build, operate and maintain a bush nursing hospital. She noted that it is a fantastic story of resilience and self-reliance in our local community, which continues today in the many community groups in our district. She noted that if the Year 9 students did have projects which they felt should happen within their community, that the Community Foundation would be delighted to hear about them, and consider whether there would be an opportunity for them to apply for some grant funding.
Overall, the speakers gave the Year 9 students lots of food for thought on the various ways individuals can get involved in their community, helping to improve the future for us all.