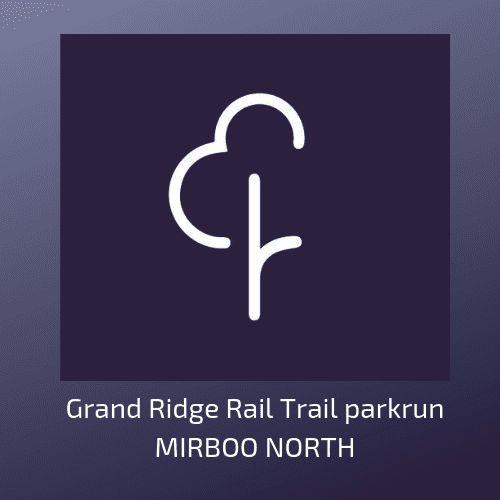 Inaugural Grand Ridge Rail Trail parkrun, Mirboo North – by Rob Waycott
They ran, they jogged, they walked, all 297 of them, at the inaugural Grand Ridge Rail Trail parkrun held on Saturday morning, 27 April.
Commencing at eight am, from behind the Grand Ridge Brewery, as well as many locals, representatives from 28 clubs took part.
The numbers attending was at the upper end of the numbers organisers had hoped for! People had travelled from far and wide to take part in the first ever official parkrun locally with a couple who had travelled from Bendigo the night before, stayed at Morwell and then drove up Saturday morning. Participants from Melton, Pakenham, Inverloch, Churchill, Cranbourne, Newborough, Sale and Traralgon are examples of how far people came to participate.
What was clear talking to these participants before the event, was how many make a point of supporting such inaugural events! One of the participants from Pakenham said that many parkrun members make a point of participating in all of the 75 parkruns in Victoria. There is quite a strong parkrun scene and it even has its own podcast. Mel (from, as it happens, Melton) is a reporter for the podcast, saying before the event that the movement helps build community spirit amongst the parkrun participants and also helps to give people a sense of connection to their communities. She also said that fancy dress was popular with participants, this being very evident with members of the Warragul club.
Heather, a run director from the Inverloch club, said that when parkrun started there four and a half years ago, it was the first in Gippsland and since then had grown immensely.
parkrun started in England and is now run in thousands of locations across the world and in the Gippsland area there are clubs at Inverloch, Koonwarra, Churchill, Traralgon, Warragul, Sale, Bairnsdale, Lakes Entrance, Phillip Island, Newborough and Pakenham.
The concept behind parkrun is that you can turn up at any parkrun location at 8am on a Saturday morning and participate in a free, timed 5km run/jog/walk.
The reason event organisers were able to get parkrun off the ground so quickly locally, was due to the combined financial assistance of Mirboo North & District Community Bank and the Mirboo North & District Community Foundation.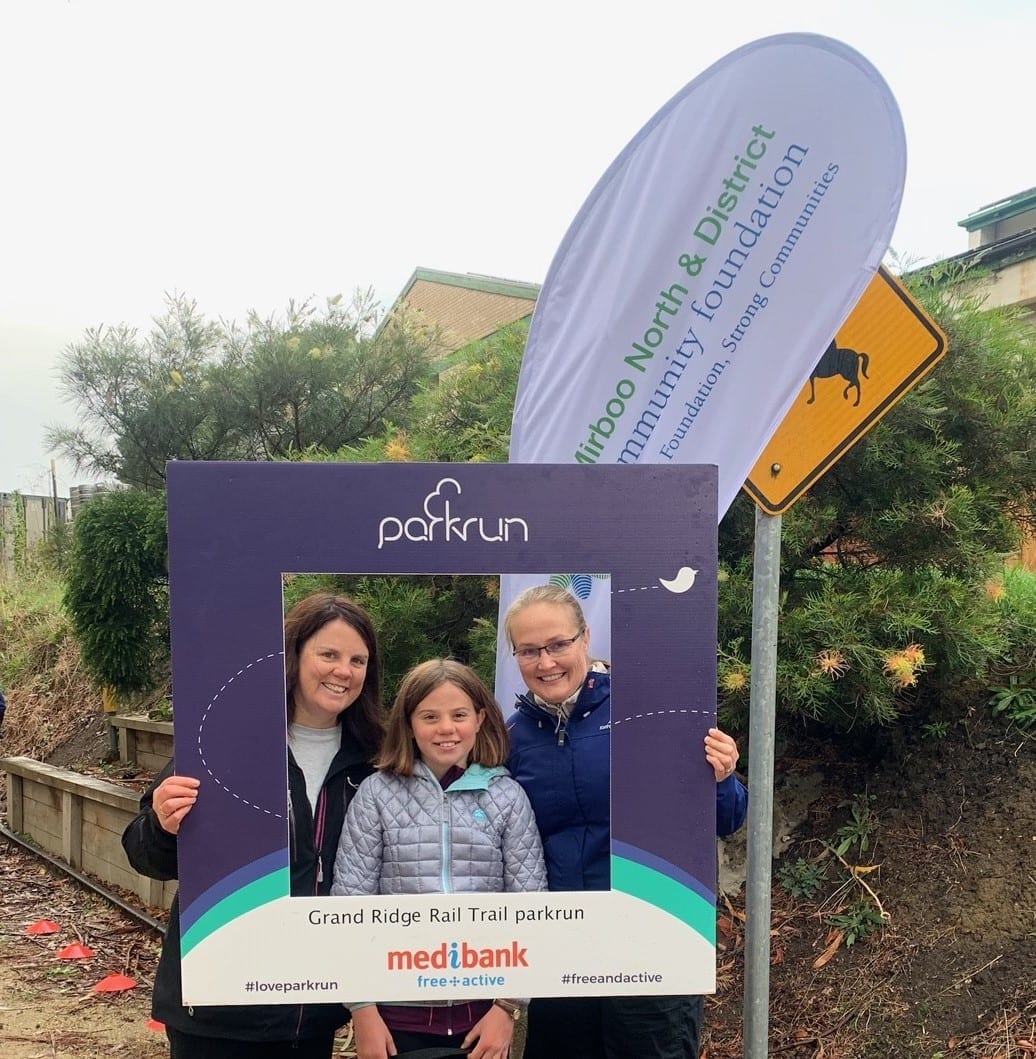 Ruth Rogan, Zoe Couper & Viv Williams
The bank provided the automatic defibrillator (compulsory for any parkrun event) while the foundation provided the balance of the set up costs.
Co-operation of the Grand Ridge Rail Trail Committee of Management, South Gippsland Shire Council's Community Strengthening Team, the Wednesday Warriors and many local community groups all made Saturday's first event possible.
Underpinning it all was the initiative of five savvy locals, Katrina Palmer, Stacey Harriage, Jessie Holland, Jodie Pincini and Liz Radcliffe with the support of their event ambassador Kate Lewton.
A baker's dozen of dedicated volunteers helped make Saturday's event run so smoothly.
When it came to the run itself, former local Sam Quirk (who these days with his life partner runs an exercise studio at Wandin in the Yarra Valley), ran the fastest time of 16.24. Michelle Harris with a time of 21 minutes flat was the fastest female runner. 295 others walked, jogged and ran – all with different goals. Some were searching for PB's – most were excited to be a part of such a great movement and we're happy to walk with their children, friends, prams and four legged friends.
Podcaster Mel said there was a strong brunch culture among participants and certainly a number who had done the parkrun later went into the commercial precinct of Mirboo North with people overflowing into the street for the cafes and local hotel.
Paul from Berwick Springs, speaking at the local market in Baromi Park, said he was a "parkrun tourist", because as well as running all of the Victorian ones, he had, with his wife, had run them in 21 countries. These included Russia, Poland, Italy, Singapore and Malaysia. Of the Mirboo North course he said it was very scenic and not too hilly!
Participants register online, print off a barcode and scan that barcode at any parkrun event in the world. The parkrun database collates their results and provides the participant with a time, where they placed in comparison to other people in their age / gender category and lets them know if their time was a personal best.
Clearly what will a weekly event from here be on is a big plus to the Mirboo North community as it encourages people to be active, be socially connected to their community and to enjoy the beautiful surrounds that grand Ridge Rail Trail offers.
The local group can be found and contacted on Facebook – Grand Ridge Rail Trail parkrun, Mirboo North.