Historic Mural opened at Mirboo North Primary School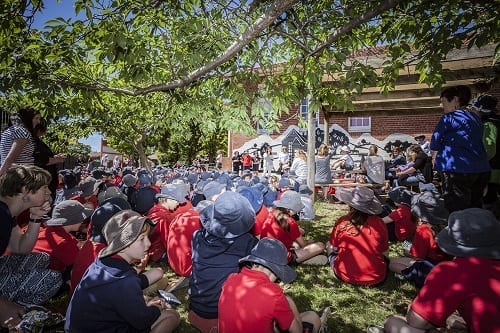 This morning the Primary School officially 'opened' their new mural of a historic school scene, which his now gracing the outside wall of the School facing the Strzelecki Highway. Created by local artists Shane Imlach and Helen Lockie from Art n' Stuff after consultation with the School Community and the Mirboo & District Historical Society, the mural was funded jointly by the Community Foundation (Community Grants program 2015) and the School's Parents Club. The whole school community was assembled for the opening, including teachers and parents, and there were special guests from the Mirboo & District Historical Society, including Faye Marshmann, Sandra Rickards and Sue Kerr. The ceremony commenced and finished with some songs from the School'schoir lead by Angie Rogers, and the Community Foundation, the Parents Club and all of the Parent Helpers involved were thanked by Matt Snell, Principal, for their support.
This mural is a refresh of the bicentennial mural which was painted by the teachers and school children in 1988, based on historic photos of the local area. The refresh has been a long time in planning, as it became clear that the painted plywood boards were reaching the end of their life. The School felt it was important to maintain the historic links, so the focus was on how best to do this so it would last well into the future. Parents Club President, Nat Jones suggested that a metallic mural on a bright painted background could be really effective and long lasting. The School got in touch with local artists Shane Imlach and Helen Lockie of ArtnStuff to discuss the possibilities, and then worked with the Mirboo & District Historical Society to find images of the School. Once Helen Lockie had sketched a design using those images, the teachers, students representative council, Parents Club and the School Council all gave input, and Shane embedded the resulting design into his computer software, which enabled him to cut the image from metallic panels.
In its design phase, the mural has helped the school community reconnect with its history (the scene includes an image of the original Mirboo North Primary School which was located in Giles Street back in the 1880s) and we hope that these benefits will flow to the broader community as well. Some finishing touches will follow, including a sign showing a photograph of the original bicentennial mural.