"I think the ARTSpace connects many people to the community that wouldn't have otherwise decided to venture out their door to another group. Many new residents to the area have come inside the door for a chat, to get a feel for the area and have then volunteered in the store."

Julie Joyce
Since 2009, the MNDCF has supported arts events such as the Yinnar Fiddlehead Festival, Arty Gras Festival and Boolarra Youth Theatre, across the district and believes arts to be vitally important to rural communities.
Artisan Store turned ARTSpace
In 2015, the privately owned Mirboo North Artisan Store became a local community incorporated association, led by a committee of management and the most vibrant and creative volunteers you will find anywhere.
The Foundation initially aimed to support the ARTSpace for 3 years as part of its "Strategic Grants Program". Assisting in preventing social isolation, the space encourages inclusion and creativity, promoting a 'can do' attitude and fostering arts leadership in the area.
The ARTSpace also has a tourism and economic benefit, by becoming a micro-business incubator and encouraging spending in conjunction with tourism events such as festivals held in the area.
Julie's Story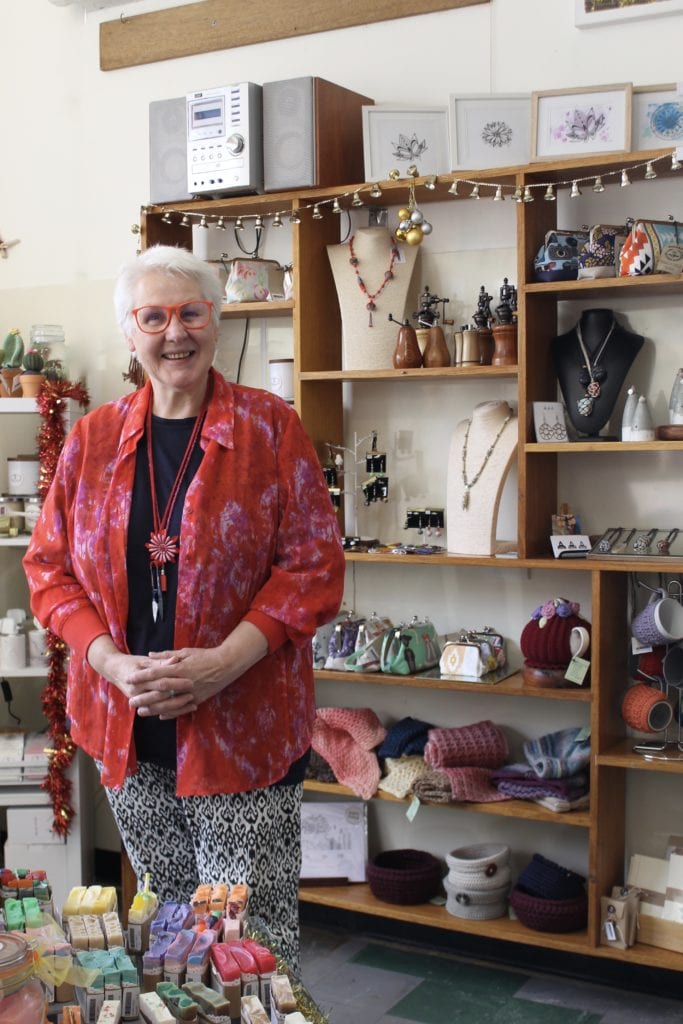 "Frankly, I'm a little bit grumpy if I'm not being creative," chuckles Julie Joyce, Artistic Coordinator of Mirboo North's bespoke volunteer run ARTSpace store.
She says meeting people and guiding them through the store is a very nice way to spend a couple of hours. "It's a great social outlet for anyone who's interested in the arts. We have spent many hours in the sewing room making boomerang bags and teaching others skills, held workshops on everything from writing or making beeswax wraps to learning ukulele and taking part in singing groups. One of my favourite events held here was a fashion show, complete with models and runway."
Julie was an arts teacher in Melbourne before moving full time to the area. She describes the sharing of skills and having an artistic outlet for the community as great therapy, ultimately having wonderful wellbeing effects for individuals.
"In addition to providing the community with access to the arts, the ArtSpace gives local artists a place to display their wares for a very low cost, or can hold workshops and teach others a little about their own craft. I can't tell you of all the good times we have had here, we have arts lunches to share and we must have a little birthday party now and then."
"There has been a silent cottage industry going on in Mirboo North for many years, and now the ARTSpace store has brought that to the forefront. Local artists now do not have to work in isolation, they can come here and feel like they are part of something that's really connected to creativity. I've seen first hand the positivity of having a local facility right here for artists and makers." Julie finished.
ARTSpace
Showcasing a variety of artworks and handmade artisan goods from across the district from over 40 artists and makers, Mirboo North ARTSpace is situated in the Butter Factory on Grand Ridge Road. It offers workshops, meeting space, kids art and school holiday programs as well as a unique shopping experience.

ArtSpace is a Not For Profit organisation set up with seed funding from the Community Foundation to provide the community with access to the arts.
The ARTSpace is open from 10am-4pm Wednesday – Sunday and is an especially cosy place to visit throughout the winter time.