"We have had some great volunteer drivers over the years join us, and we are always looking for new drivers who can help us out. We appreciate people who are punctual for the seniors, have good driving experience and are willing to help users get on and off the bus using excellent people skills."

Di Kiddell
In 2015, Mirboo North RSL regretfully decided that they no longer had the resources to run their community bus service. The MNDCF identified the Community Bus Service as vitally important, providing much needed transport to the residents of the district, particularly those who have difficulty in finding suitable transport facilities.
The Community Foundation became the owners and financially backed the bus facilities, with the Community Shed providing operational and community booking services. Gratefully, the South Gippsland Shire has subsidised fuel by providing the foundation with a fuel card, as they also recognise the value of the service.
Community bus run by volunteers
Di Kiddell is the dedicated volunteer who currently makes it all happen on the operational side on behalf of the Community Shed. She ensures that the bus is properly maintained, takes all bookings on the Community Bus phone, arranges pick up and drop off of keys and paperwork, as well as lodging payments. This takes up a significant amount of time as there are both regular weekly and monthly users like the Senior Citizens, the Boolarra Gardening Club, Probus and the Schools, as well as one-off private hires for events, family occasions such as weddings, walking groups and nights out.
Di's Story – Community Bus Driver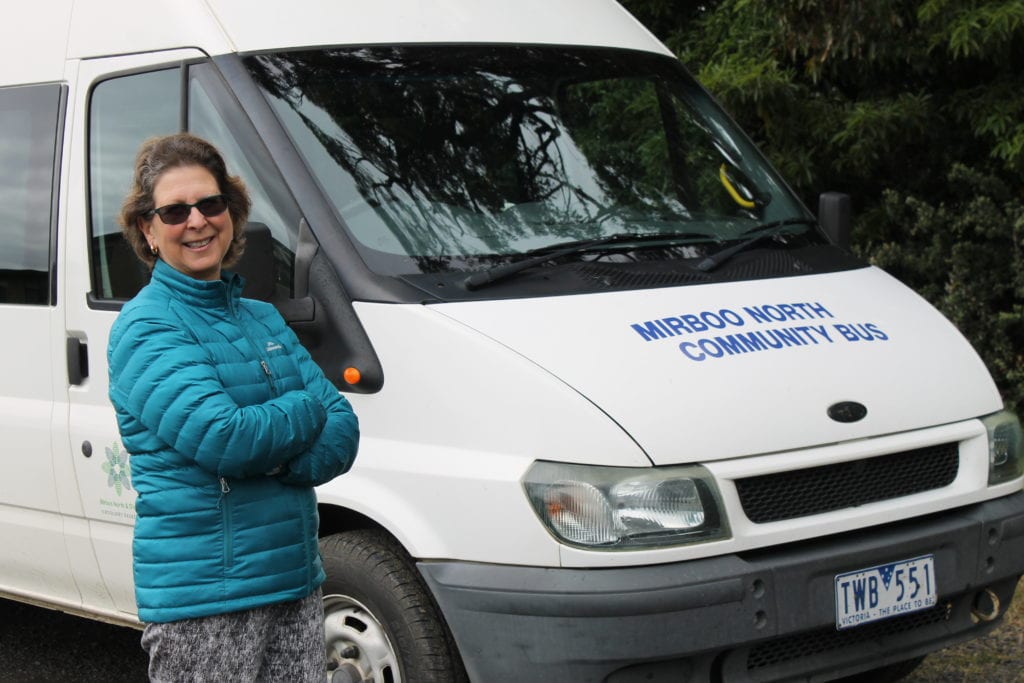 Di Kiddell says that she quite likes driving Mirboo North's community bus because it reminds her of driving 12 seaters buses at the school where she worked at for many years. As a teacher, she says she is used to rounding people up!
"When the Community Foundation inherited the RSL's bus service in 2015, they were looking for a volunteer coordinator. I spent many years organising people as a teacher, I thought well I could do that and put my hand up," said Di.
As coordinator Di takes bookings for the bus, organises driver paperwork, collects and keeps receipts and invoices, and trains fellow volunteer bus drivers. On her biggest day, Mirboo North Italian Festa, Di helped to organise 5 drivers to run a crowded shuttle back and forth around the town. She enjoys being the 'organiser' and has created systems so it all runs smoothly.
Di says some of her favourite trips have been with the seniors, taking them to the local shopping centres (where there is always time for a cuppa), out for pizza lunch in Meeniyan, seniors week concert trips and the very tasty day out at Prom Coast Cheese.
"Regular users of the service become great friends and I really enjoy meeting local people. Users really do appreciate that this service exists for them. It provides them with an added layer of independence. Locals who book and use the service really respect it, they honor the vehicle and always leave it clean. It's a very rewarding service available for the community." Di finished.
The bus service is particularly important for senior citizens to the area, providing a fortnightly senior citizens shopping trip to Morwell, picking up passengers in Dumbalk and Mirboo North as well as taking them to Senior Citizens Luncheons and Senior Week celebrations.
Insured for groups to use
The bus is fully insured with RACV Roadside Assist. A fantastic resource at the community's disposal, it requires a driver who has had an Australian driving licence for at least two years and is over 25 years of age (an insurance requirement). The designated bus driver must be zero-alcohol at all times. New volunteer bus drivers are always welcome.
Maintaining the Community Bus Service is a great example of community organisations working together to provide much needed services for the district so that together they can provide the service well into the future.