"The ladies here at the hall, we put the kettle on, that's what country does! The hall is my place of community, where people gather. We have everything from community casserole dinner nights to regular ballroom dances, there's always so much going on."

Elaine Snell
In July 2012 the Dumbalk Hall and Ladies Auxiliary found out that if they wanted to continue to provide catering in the hall, their hall kitchen had to be registered to meet Health and Safety legislation.
Catering had always been a focus at the hall, over the years many family gatherings, funerals, ballroom dances, weddings and even indoor bowling had been conducted at the hall.
$42,000 kitchen upgrade
Upon inspection, it was found that the aging facility had 16 outstanding items that did not meet these standards. They began looking locally for financial support so they could upgrade their kitchen.
They were successful in receiving a community grant from the South Gippsland Shire of $10,000 (which they had to match 1:1) and they also received a $5,000 from the Community Foundation.
Community in action over 6 weeks
Within 6 weeks they managed to pull together as a community and refurbish the kitchen with a start date of April 2013. Many local trades people got together to help get the kitchen up to scratch. Mark Cantwell Cabinet Maker became the unofficial site manager, Tiler Nic Hill and five other tradesmen all worked on finishing the walls, John Xuerreb worried about floor coverings and Steve Martin Plumbing and staff did a great job. Talk about community spirit!
On Friday 11th October 2013 the Ladies Auxiliary officially opened the new kitchen in a position to serve all in the district for now and well into the future.
Workshops in cooking and healthy eating
Since the kitchen opened the Ladies Auxiliary have run a series of workshops with a focus on healthy, home cooked meals. They have made CWA sponges, pies, pastries, cold rice paper salad rolls, how to make a "good" scone and education around cheaply making a balanced meal with fresh vegetables and meat. These have been well received and much feedback was given for future workshops.
Elaine's Story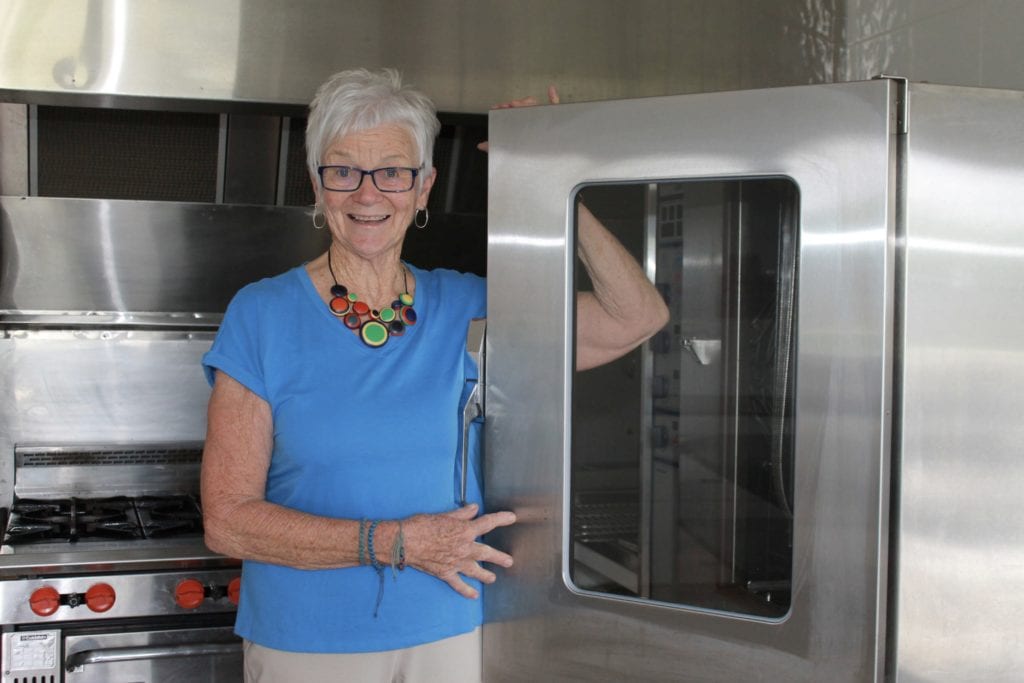 Elaine Snell says the decision to refurbish the aging Dumbalk Hall Kitchen was a way to pay tribute to the women who had initially set the kitchen up and gathered there to cook together over the past century.
"I wanted their legacy to continue, and to do that the kitchen needed to be spec'd up to meet proper OH&S standards so people could continue to use the facility for their family gatherings and events."
Elaine says she remembers the stories told of the Ladies Auxiliary "They used to bring in their own spare cups, plates and cutlery and bring their bakeware from home so they could share skills with others. Now we take advantage of modern appliances that we have been able to acquire."
"Local people can come in and steam their Christmas puddings properly in the commercial steamer here and we have had local cooking classes such as pastries and pie making, CWA sponges and healthy salads."
Elaine says that she is proud that the kitchen is now one of the best commercial kitchens listed in the South Gippsland Shire. "Professional chefs love to cook in here!" she exclaimed.
Dumbalk Hall
Dumbalk Hall is managed by a Section 86 Committee of volunteers. The Committee meets on the third Tuesday of the month at the Dumbalk Hall.
There a regular community events held in the hall including dances and meetings. The hall has a commercial grade kitchen and is available for hire.