Italian Festa 2018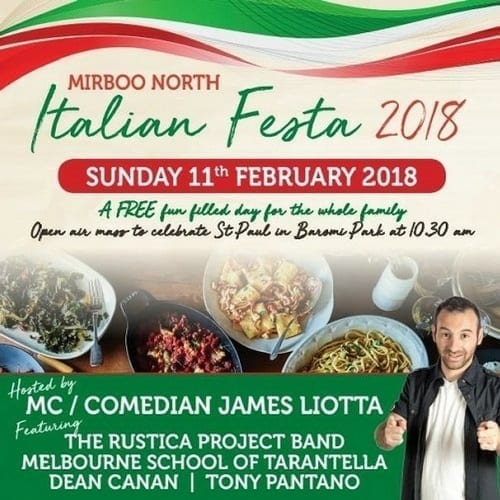 With only days until the Mirboo North Italian Festa, the hard working Festa committee has everything prepared for an amazing day of fun, food and free entertainment. Italian FOOD will be the hero in 2018. Over 40 food stalls, as well as all the great food venues in town, will cater for every appetite – fabulous Italian favorites as well as lots of other delicious options.
In addition, Press Cellars' designated outdoor terrace bar will provide a lovely spot for patrons to sit under the trees with an Italian wine, beer or Aperol Spritz and enjoy the on stage entertainment.
In the Cooking Demonstration Marquee, Trevor Perkins (Hogget Kitchen Warragul –listed in Delicious Top 100 Restaurants in Victoria) will make hand rolled pasta with a fresh seasonal sauce, Dave Cann (String & Salt Warragul and Leongatha) will demonstrate how to make salami and Michelle Cann will involve the audience in Mozzarella Cheese making and stretching.
For those who want a more hands on experience, pasta making workshops will be running at Jacican's Food Studio in town.
We all remember last year's fantastic exhibition of wedding dresses, 'la vestina bianca', well this year's Exhibition focuses on the wonderful food heritage of the Italian community. Over the past 12 months the committee has visited over 20 Italian Nonna's (grandmothers) – photographed them making a traditional "secret" recipe and are in the process of collating these into 'Nonna's Secret Recipe Book. There'll be an Exhibition of the photographs at the Festa and the book will be available for sale. In fact, orders can be placed already on the Italian Festa's website (see below).
There will also be free entertainment for all ages throughout the day, thanks to the support of the local community, businesses and the major sponsors: the Mirboo North & District Community Bank, South Gippsland Shire Council and The Victorian Multicultural Commission as well as many other supporters. On stage entertainment includes singers Tony Pantano and Dean Canan, The Project Rustica Band, the Mirboo North Primary School students and the Melbourne School of Tarantella, who are inviting everyone to learn this famous traditional dance with them.
A community grant from the Mirboo North & District Community Foundation has ensured that children of all ages will be well catered for with free fun activities throughout the day: this includes a Giant Inflatable slide, Obstacle course and Jumping Castle, as well as arts/crafts, balloon twisting, face painting and even pony rides provided by the local Pony Club.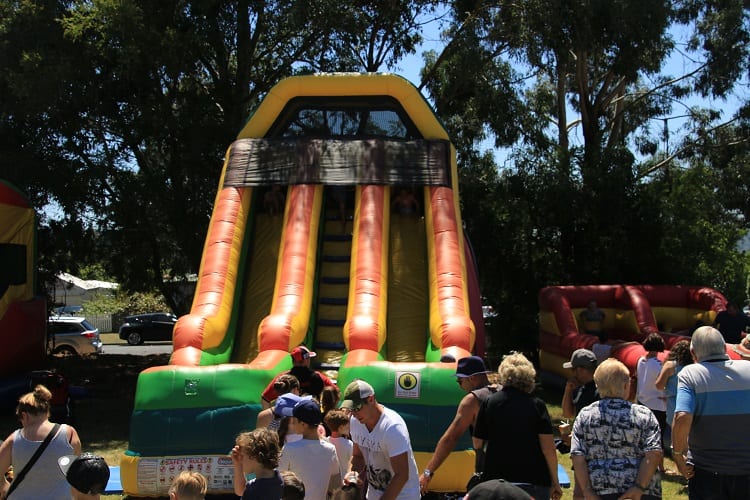 Add in Spaghetti eating competitions, Grape Stomping and 80 plus market stalls, this year's Italian Festa, at Baromi Park, Mirboo North on Sunday 11th February, is shaping up to be the best yet.
Come along and be immersed in a free, fun-filled culinary and cultural experience with something for everyone in the family.
For further information check the website www.italianfesta.net, follow us on Facebook @mirboonorthitalianfesta or contact Rosie Romano on 0439 449 928.