Member Package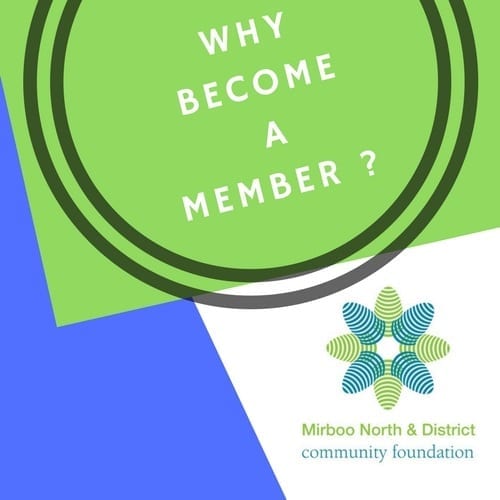 The Mirboo North & District Community Foundation is unusual amongst community foundations because it has a membership – most Community Foundations do not. The reason we fortunately do have a membership is because of the way in which the Community Foundation developed: one of our community's stories of self-reliance and optimism includes three membership organisations – the Bush Nursing hospital, which was membership based. It became the aged care facility (Mirboo North Community Care) which was also membership based and then came the Community Foundation.
Throughout that story, members have been critical to the strength, resilience and continuation of those facilities, and that is no less true in 2018 as a Community Foundation.
Who are our Members?
Our members are a range of people, of different ages and backgrounds, people who grew up here and people who have adopted this district as their home.
Our members are people who want to give something back to the community – as, of course, are the members of the myriad of organisations across our district. But not only do they want to give something back, they want to see the Community Foundation have an impact in the Community. They enjoy looking at the big picture for our area and considering how well targeted funds can make a huge difference to an issue.
Our members believe that together with the Community Foundation, the community can make the whole district more prosperous, adaptive and resilient; that together we can make a difference.
If this resonates with you, please ask us for our membership application form which we can send by post or email. The fee is $20 for annual membership (or $10 concession).
What does membership mean?
As a member, we will tell you more about our story, our impact and our priorities, how the community foundation operates. We can do this by sending you material or you can come to a social introductory members gathering to do this.
Also as a member, we will send you a Quarterly Update on current operational priorities and activities within the Community Foundation, as well as information from the broader philanthropic sector. There will be two members only events each year with a similar scope but in a more sociable setting.
Membership also means that you can vote for the Directors who govern the Community Foundation through the voluntary Board – or you can put yourself forward for election as a Director.
There will also be occasional opportunities to give your ideas in relation to strategic planning, or to join sub-committees or grant assessment panels.
We believe strongly in building capacity across our community, and members will also have the opportunity to access some skills development or conferences dedicated to members. You will also have access to our grants knowledge bank (what grants are available in what areas at any time).
Finally, members will be able to see impact in action, through joining us at celebrations of the launch or completion of projects under our grants programs.
If you would like to find out more about membership, email Ruth on ruth.rogan@mirboodistrictfoundation.org.au or call on 0418 301 092.
If not, we are delighted to have you on our e-newsletter subscription list, keeping up to date with our news. Feel free to share or recommend the e-newsletter to others whom you think might be interested.