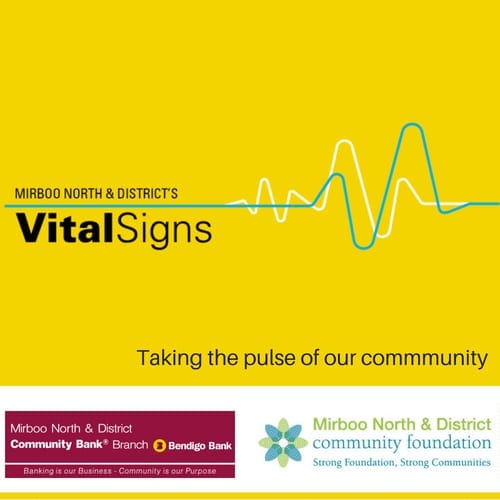 Mirboo North & District's Vital Signs
Tell us what you LOVE about where you LIVE
Mirboo North & District's Vital Signs is a collaboration between the Community Foundation and the MN&D Community Bank. The project, which launched in June, is based on the Vital Signs framework developed by the Community Foundations of Canada to 'take the pulse' of communities in key quality of life areas.
Mirboo North & District's Vital Signs uses credible data relating to our district together with local knowledge and expertise to find out what is happening in our communities and to better understand why it is happening.
A key element of Mirboo North & District Vital Signs will be to engage the community in a conversation around the data gathered during the course of the project. The findings will be published in a reader-friendly Vital Signs Report which will identify significant social and economic trends and emerging issues, and which presents a picture of our communities.
Since the launch of our collaboration, the Vital Signs team, which includes representatives from across the district, has been beavering away gathering data. The focus is currently data which gives us a snapshot of who we are, referred to as 'If we were a village of 100'. This generally will come from the 2016 census data and gives us an idea of our mix of gender, age, cultural heritage, property ownership and occupations for all of the communities in our District.
Data is also being gathered in relation to the themes of Health and Education which we expect will bring up some interesting data on how we are going as a community.
Once gathered we will be organising events to share and discuss what the communities think about what we have learned.
In the mean-time, we are creating opportunities to share information about our Vital Signs project and keep you up to date with our progress. The Mirboo North & District's Vital Signs' FaceBook page will launch in the next week or two and there is a button to sign up for email updates or you can simply follow our page.
The project is also launching a postcard campaign as a way for you to share what you love about where you live. Your comments will be an important part of the Mirboo North & District's Vital Signs providing context for what is important to us as a district.
As you may have seen at the Choo Choo Market in Mirboo North last Saturday, these printed postcards simply ask you to 'Tell us what you LOVE about where you LIVE'. The team were there taking questions and were thrilled that all the available postcards were filled in and 'posted'.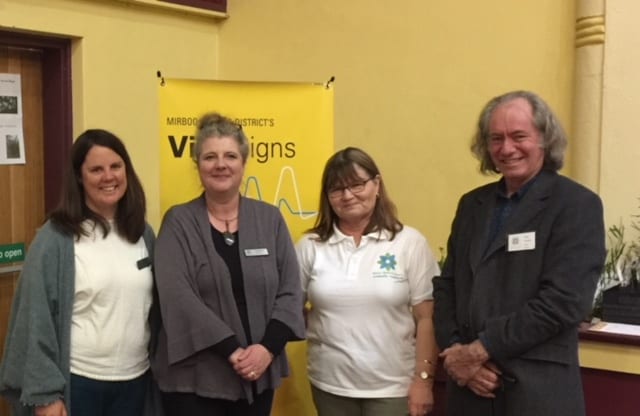 L-R Ruth Rogan , Kate Buxton, Wendy Major, Ned Dennis
Watch this space for location of printed postcards (they will be circulating and available at community events) and the drop off 'post-boxes' in your local community.
If you would like to contact the Mirboo North & District's Vital Signs project team you can send an e-mail to: mirboonorthdistrict@vitalsignsaustralia.org.au