We are very grateful to Rob Waycott and the Mirboo North Times for allowing us to share their excellent article on the reopening of the Mirboo North Pool on our website (together with the wonderful photos taken by Elana Kovac).
The Mirboo North Times is a weekly community newspaper run entirely by volunteers. 
It is a wonderful point of community connection and sharing. 
To find out more about the Mirboo North Times or how to get involved, please click here.
—
Official Reopening of the Mirboo North Pool
For the second time in just six weeks Mirboo North saw on opening for a facility that will serve the community well into the future.
The refurbishment of Mirboo North Swimming Pool involved overcoming COVID-19, a wet winter as well as the difficulty of obtaining materials, its official opening Australia Day attracting a number of dignitaries as well as something like one hundred locals.
It also involved an appropriately decorated cake.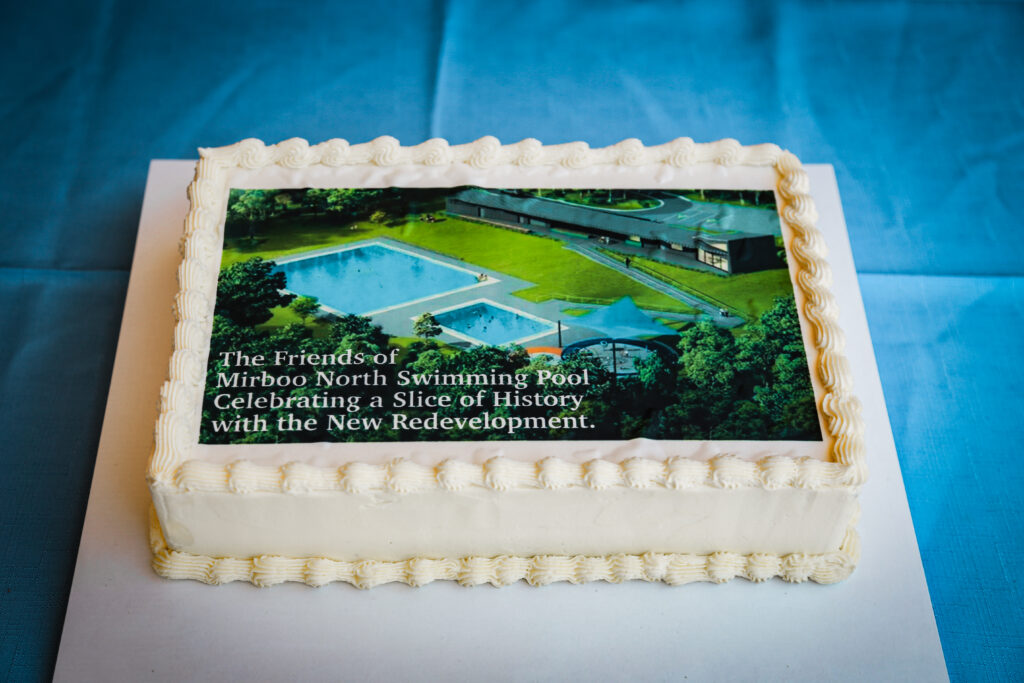 Given the occasion it was highly appropriate that Mary Baker was acknowledged as Mirboo North Citizen of the Year. As Rob Kiddell, speaking as president of the Mirboo North and District Foundation put it, "How wonderful it is that Mary Baker is acknowledged for all of that work that has been done. Mary would be the first to say she's been one of many. That's what's great about this community. Mirboo North is a place where everyone can feel at home, and everybody can get involved to the extent that they can".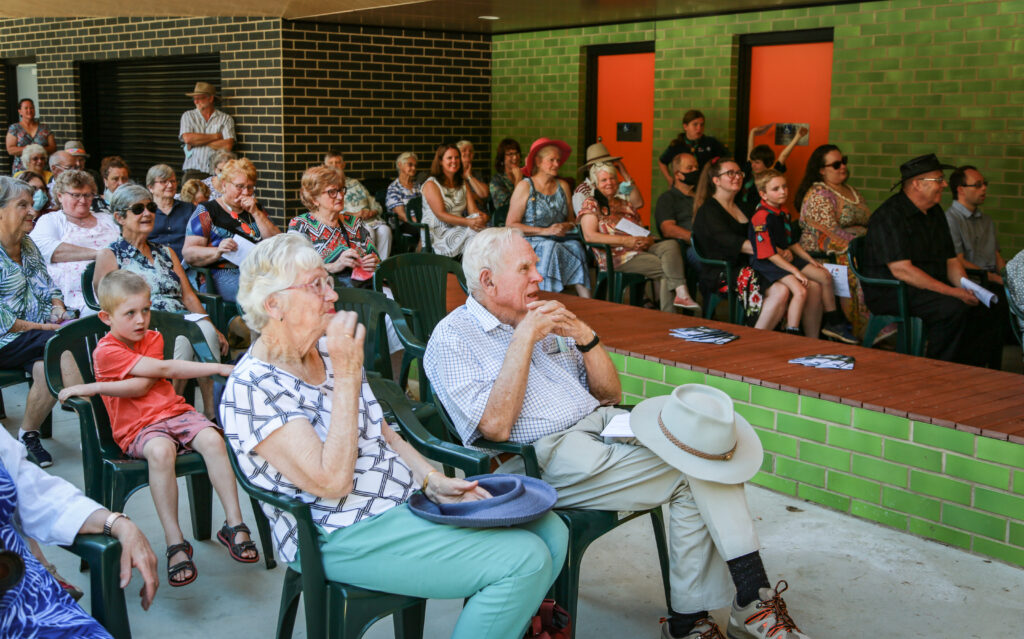 Mr. Kiddell was one of a number of speakers which had as its MC Kerryn Ellis, CEO, South Gippsland Shire Council.
Other speakers were MLC Harriet Shing, South Gippsland Mayor Mohya Davies, Tonya Wright, Chair, Friends of Mirboo North Pool Committee, local fundraiser Rylie Gourley, and Jan Head, Vice President Mirboo North and District Community Bank.
Also attending were MLC Melina Bath, the Member for Gippsland South Danny O'Brien, and South Gippsland Shire councillors John Schelling, Clare Williams, Michael Felton, and Jenni Keerie.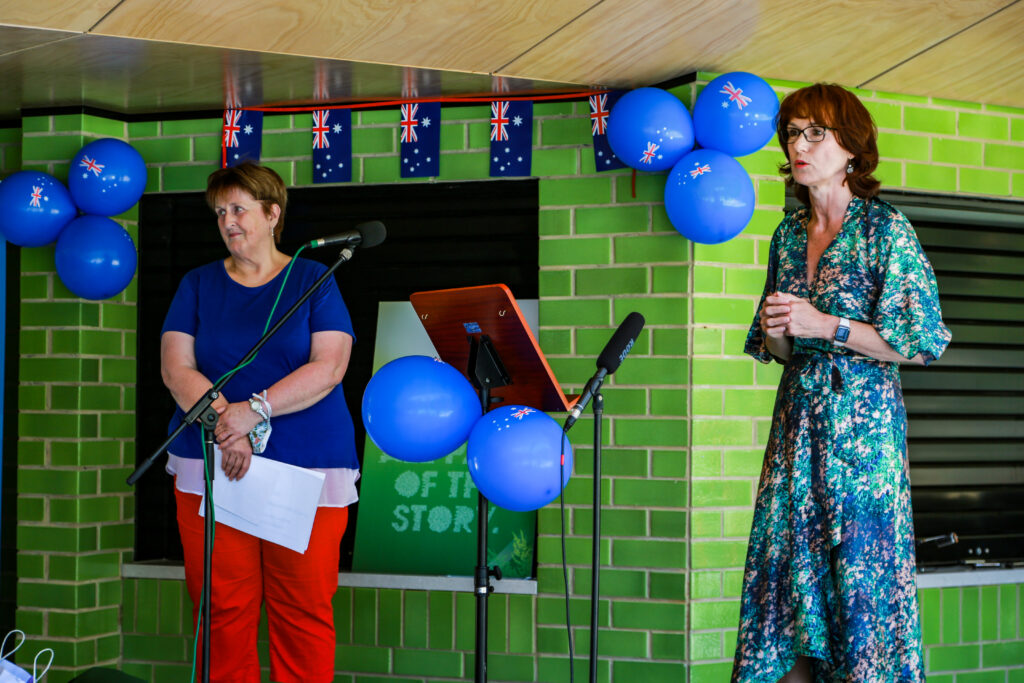 One of the apologies was Russell Broadbent, the federal member for Monash.
In her comments Ms Shing described the end result as "a glorious community effort to bring together so many community voices". She also referred to those with different political allegiances being able to work together to produce the outcome they had.
"This is the jewel in the crown of one of the most beautiful spots in Gippsland", she said. "I'm so pleased to be able to come here. I congratulate everyone with this Mirboo North specific stamina and tenacity to get things done. You are famous for your endurance, making sure the community gets the very best".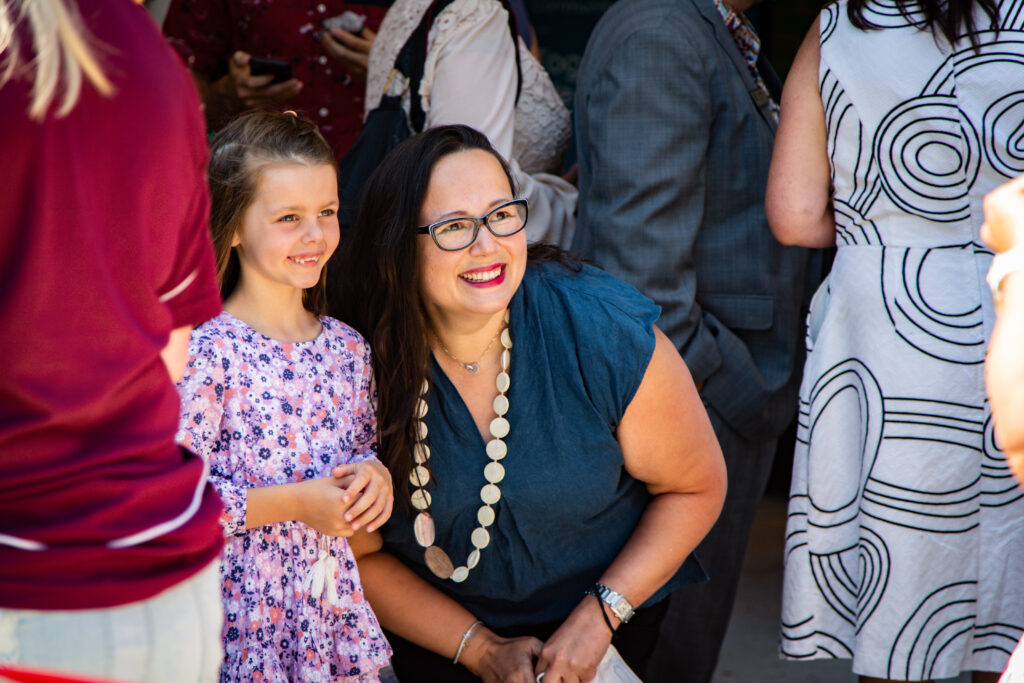 "Even though the journey may have been long, even though it might have involved various chicanes along the way. Please enjoy this facility, please know that all of your efforts were more than worthwhile. I congratulate you on this achievement that's been so long in the making and I look forward to the next project in the pipeline in Mirboo north to continue to grow, to expand, to become ever more inclusive and to become the jewel in South Gippsland that we all know that it is".
In her comments Mayor Mohya Davies said in part, "The community has worked really hard to pull together the $1m that they put towards this, and it's been an all of government effort with federal and state governments contributing".
Like Ms Shing, the Mayor referred to the tenacity of the community in raising funds, "which is never easy", she said. "I'd like to acknowledge the effort that they put into this pool".
She also included a personal reflection, about being a Foster High School student travelling to the pool to compete in an interschool carnival.
"I dived into the pool with great intent", she said, adding, "the water was so cold. I achieved a personal best I don't think I won the race but I was certainly glad to get out of the pool."
"We understand how highly valued pools are in our community. I would like to thank Council staff and the contractors who've made this project possible", added the Mayor, pointing out the difficulties faced by Langden Constructions during the construction.
"I'd also like to make mention of Mary Baker and the team. Mary is one of our nominees for Citizen of the Year, and I know very loved by the Mirboo North community. Thank you very much for all of your efforts It is a great honour and a privilege to be here today".
Tonya Wright, current President of the Friends of the Mirboo North Pool Committee acknowledged previous members of this committee, may of whom were present and had their picture taken around a specially made cake.
She said that being on the committee "has been a time of personal growth. I've made a lot of good friends, built relationships and networks that I would not have had the opportunity to do beforehand".
"Our vision, as Friends of the Pool", she said, was to ensure that our swimming pool was redeveloped on the same site we're standing on today. Grassy green banks, luxurious, beautiful unique bush setting makes it iconic for Mirboo North. We also wanted to make sure that our facilities were accessible and also to be used by people of all ages and ability".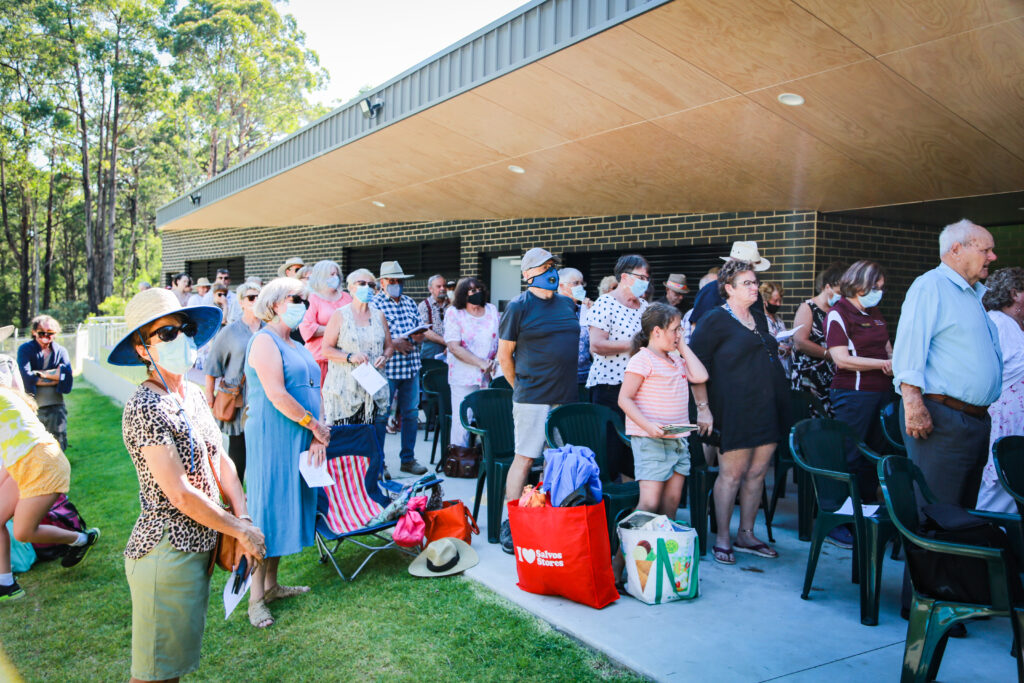 Rob Kiddell was one of three speakers to make a version of an acknowledgement of country, saying, "If we listen to our indigenous people they tell us something about how to be at one with our environment and of course if we think about this wonderful facility so much of the beauty of it is related to the fragrance of the bush just out there with its native orchids and bush".
"From the Community Foundation's point of view we're really focussed on the health and well being of our community. This project has been part of the health and fitness of our community over many, many years. I can remember when we first moved to Mirboo North in the early 80's and my work mates would come up here with their families under the watchful eyes of the late Wally Carter. It's a pity he's not here today".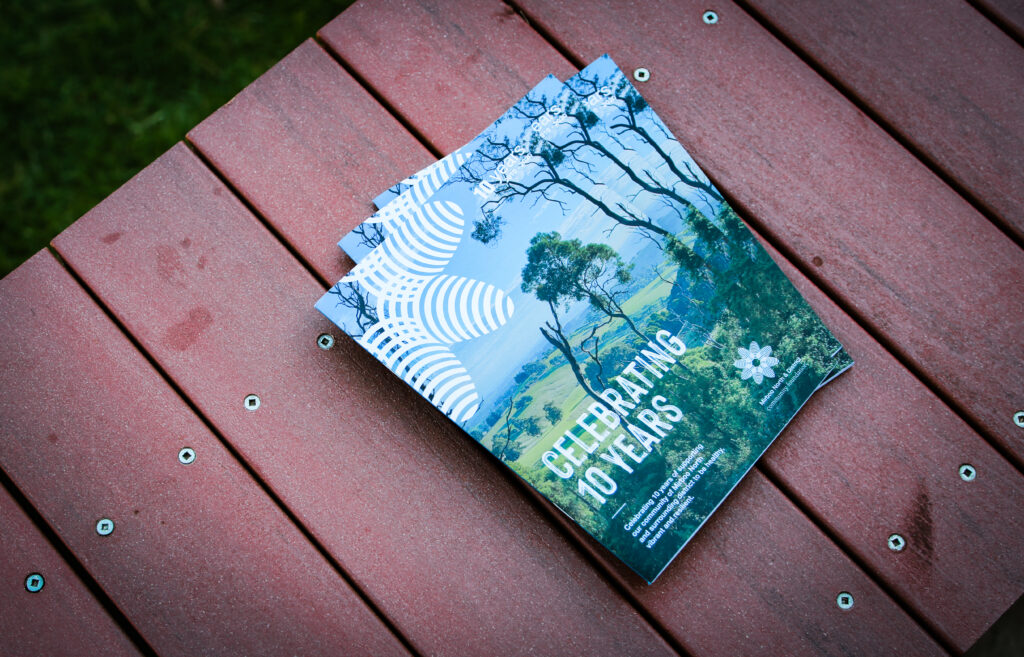 He then outlined the foundation's contribution to the redevelopment, a grant of $450,000, and then a matching grant of $100,000 on a dollar-for-dollar basis. "Our prudent investment also earned something like $65,000 extra on the money that you raised".
Introducing Riley Gourley, MC Kerryn Ellis described him as "One of the Mirboo North community's most passionate young fund raisers for this project".
In his brief comments Riley thanked everyone who donated, the builders as well, saying, "I'd like to thank everyone for coming here today to celebrate our community and all that everyone has done".
In her comments Jan Head alluded to how the pool went from being threatened with demolition to not only being saved but ending up being one of the most beautiful outdoor pools in the region.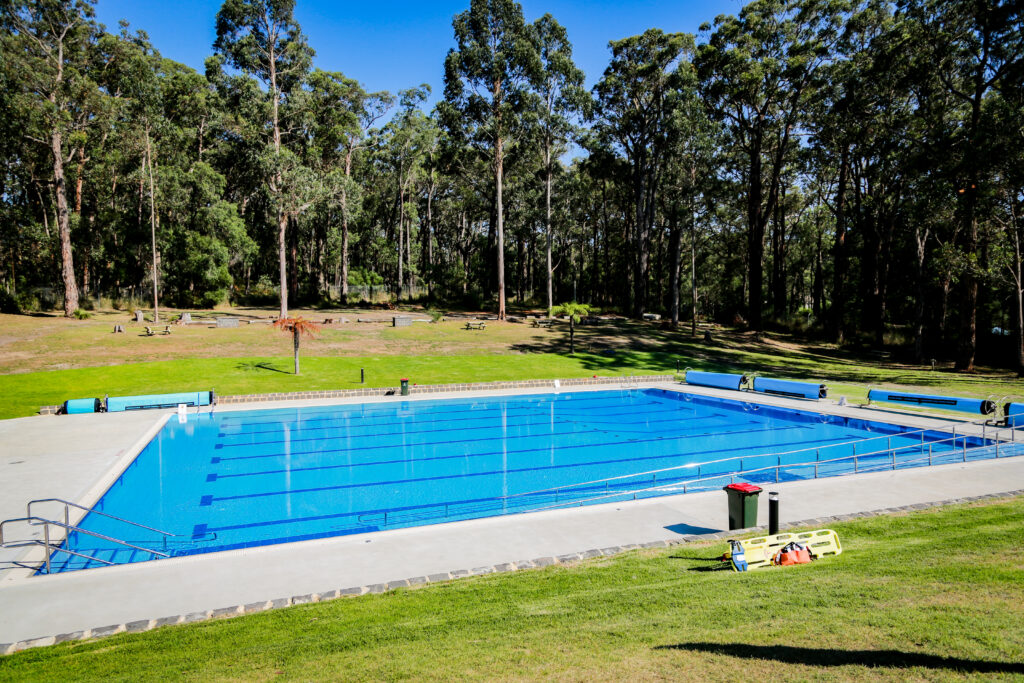 She recounted how the Friends of the Mirboo North Swimming Pool made a presentation to the Board of the community bank in July 2017, which was a precursor to a major community fund raising exercise, to which the bank contributed $100,000.
This was by far the largest contribution ever made by the Mirboo North & District Community Bank.
"The Community Room has been made possible by the bank's donation and as well all know, gathering spaces are vital for resilient communities, proving that banking with your local bank can make a difference".