Mirboo North's main street was the beneficiary of some love and attention at the end of 2020, thanks to a fantastic whole-town working bee which saw lichen removed, windows washed, new wine barrel planters installed and Christmas decorations put up.
This activity was part of the first phase of Revitalising Ridgway project which is all about ensuring Mirboo North's main street reflects the vibrancy of the Mirboo North Community. Coordinated by a Revitalising Ridgway working group, within Mirboo North Development (formerly MCDI), this phase also included seeking grants for some short and medium term projects to enhance Ridgway.
To kick off 2021, A group of 45 enthusiastic locals (business owners, landlords, community groups and events representatives) gathered at the Mirboo North Hotel on 1st February for a workshop that explored ways to reinvigorate the town centre for the benefit of locals and to attract visitors to the town.
The evening kicked off with discussion around Mirboo North's many strengths – including the beautiful natural setting, proximity to the city and the coast, the vibrant and engaged community, the amazing facilities (existing and underway), including the new outdoor pool, a new medical centre, the upgrade to Baromi Park and the Grand Ridge Rail Trail. The discussion explored some of the challenges, but also the opportunities that have resulted from Covid restrictions – including increased interest in relocating to regional areas, and how Mirboo North can position itself to make the most of this unique situation.
Experienced place-maker and visual merchandiser, Catherine Malady, then facilitated the workshop, taking the group through some of the principles of placemaking that make some destinations appeal over others – such as complementary colour palettes, signage, abundant street plantings, public art and outdoor seating. The workshop also drilled down into practical tips and advice on how small businesses can improve their street appeal, and how best to communicate the strengths of their business to potential customers.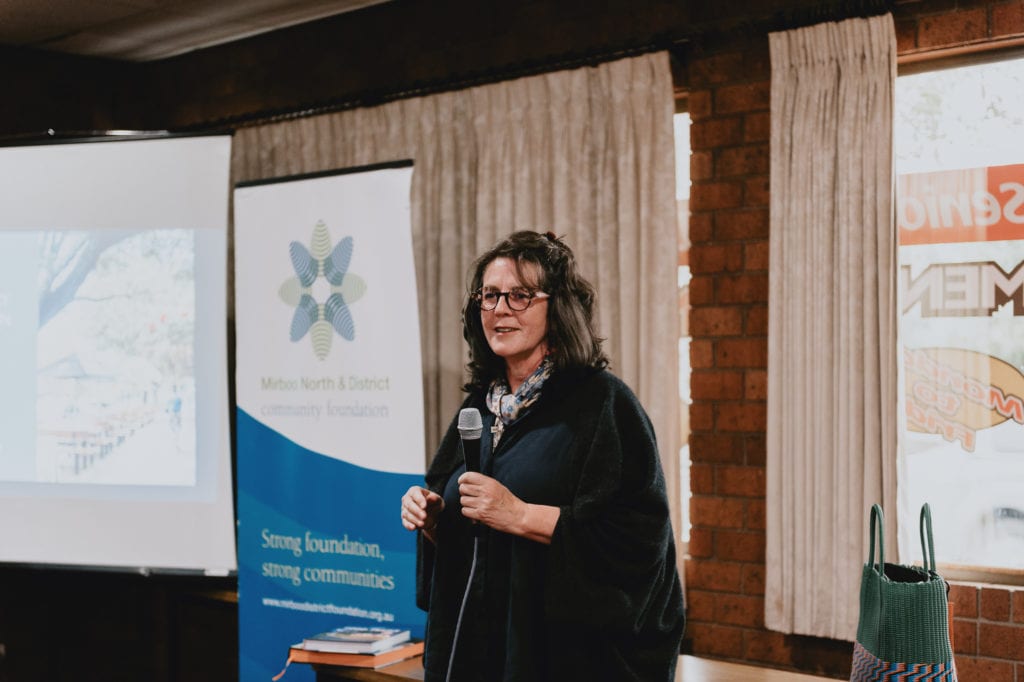 The Revitalising Ridgway workshop is thanks to grant funding from the Mirboo North & District Community Bank ('the Community Bank') and the Mirboo North & District Community Foundation ('the Community Foundation').  'The Mirboo North & District's Vital Signs Report published last year was a collaboration between the Community Foundation and the Community Bank and clearly showed the importance of local business to the economy of our town:  more than a fifth of employed adults run their own businesses in South Gippsland, compared to 13% across Victoria,' explained Anne Marie Dieperink, Executive Officer of the Community Bank. 
'With this in mind, we were very pleased to jointly support this Workshop which not only aims to strengthen the businesses on Ridgway, through developing increased visitation time, community engagement and spend from locals and visitors alike, but will have flow on effects to businesses across the district,' added Ruth Rogan, Executive Officer of the Community Foundation.
"We look forward to seeing the fruits of the workshop as the principles of placemaking are digested and put into action on Ridgway", she concluded.