Robert Kiddell: Board Director of our Community Foundation.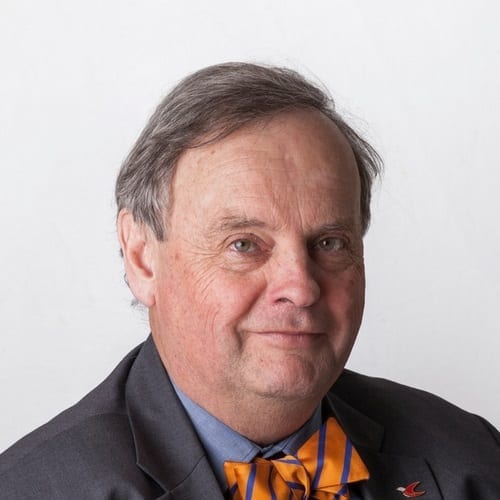 Robert is a local certified financial planner (CFP®), lawyer, notary and company director who has wide community and professional interests.
He is a former shire councillor; a Life Member of Apex; he was the inaugural president of the Mirboo Community Association; a former Secretary of the Gippsland Law Association; an original director of Strzelecki Brewing Company and Mirboo Tourism Pty Ltd; inaugural chair of the IAFP (Gippsland Chapter) now Financial Planning Association; managing director of Grand Ridge Agencies (Bendigo Bank Agency prior to the Community Bank) for 12 years; and a Fellow of the Gippsland Community Leadership Program.
Robert's dedication and service to the district community have brought enormous benefit to the community and his wealth of experience and expertise in the legal and financial.Robert has answered some questions for us
Where did you grow up and what brought you to Mirboo North?
I grew up in the metropolitan beachside suburbs of Cheltenham and Brighton Beach. During school and university vacations I worked at Wilsons Promontory and met Di there. Ironically she had left Korumburra at 18 to study in Ballarat, with no intention of ever returning to South Gippsland. After I finished university and we married I had decided I wanted to practise law in the country. I had a choice of positions in either Mildura or Sale. We moved to Sale and some years later I bought into a practice in Morwell. Back then in 1983 the Shire of Mirboo was running lifestyle TV adverts, encouraging people to come to live in Mirboo North and so we came from Sale in 1983 and had a look, liked what we saw and ended up staying.
How did you first get involved in the Mirboo North & District Community Foundation and why did you join the board?
Back when the aged care facility was a locally run not-for –profit and its future was in doubt over accreditation; I was responsible for the on-line Bendigo Agency (now the Community Bank). Accordingly I was asked by the then Chairperson to see if I could help find alternate finance to keep the aged care facility's doors open, after their own bank (Witch Bank) refused to extend further credit. I then made a nuisance of myself after Bendigo Bank also initially refused to provide an alternate source of finance to keep Mirboo North Community Care operating long enough to regain accreditation. Eventually Bendigo Bank reconsidered after Colin Kiel and I made very strong representations. Accreditation was regained as a result of Bendigo Bank giving them that breathing space. The Board then quickly engineered a sale and transition that saved the facility and the aged care sector jobs and left Mirboo North Community Care with a huge endowment from the sale to the current owner. It was about then I was invited to join the Board of MNCC. A deliberate discernment process then followed and the organization became a membership based community foundation (which is an unusual but not unique model). Over the years of this journey I have derived a great deal of satisfaction from what we have been able to achieve together as a Board.
What motivates you to volunteer in the community?
At the same time I started my first professional job in Sale, a RAAF former chief flying instructor and Roulette joined the firm as office manager. Robin Page was his name and he was about 15 years older than me, he was also a Rotarian and he became something of an early mentor. He encouraged Di and me to join Rotaract, which we did. It was a great training ground for community service. Both Apex, which I joined when we moved to Mirboo North and Rotaract were also a lot of fun, but with a serious side. Over the years I have often reflected on the Ideals of Apex (which I can still recite):
To make the ideal of service the basis of all enterprise; to develop by example a more intelligent and aggressive citizenship; to provide means of forming enduring friendships, rendering altruistic service and building better communities; to promote international understanding and friendship.
Later although running my own practice I somehow found time to participate in the Gippsland Community Leadership Program in its second year 1997. Finding time was probably due to the support of Lyndal Angove, who later became a part owner of the business and also carried a lot of the administrative load for the Bendigo Bank on-line agency in its first few years of operation. The GCLP certainly broadened my knowledge and understanding of the whole region. I'd recommend it to anyone serious about community service.
Which two organizations outside Mirboo North & District Community Foundation do you know the most people at and why?
One would be the RAAF particularly at East Sale Base where I have served at as a Squadron Leader in the Specialist Reserve for over 30 years. As a result I have colleagues and friends all over Australia.
The other I guess would be the Uniting Church. I have been involved with the Uniting Church in Australia's Gippsland Presbytery for over 25 years and had the honour of leading it for three years in the early part of this century. As a result I have got to know hundreds of people from Mallacoota to Phillip Island.
If you could travel to any destination in the world where would you go and why?
I'd like to visit Burrowbridge a village and civil parish in Somerset, England, situated on the River Parrett and A361 road in the Borough of Taunton Deane, and on the edge of the Somerset Levels. It is where my father's family came from three generations ago.
You recently went on a trip. Where did you go and what was the highlight of the trip for you?
Di and I travelled with her brother and his partner to the tip of Cape York, a round trip of more than 10,000 kilometers. There were dozens of highlights provided by the constantly changing scenery, but three things stand out (i) barbecuing fresh crayfish; (ii) swimming at Fruit Bat Falls and Eliot Falls; and (iii) a helicopter ride around the tip of Australia.
What has been the most important innovation you have witnessed in your lifetime?
I'm an unashamed optimist. I think the work of philanthropists, particularly people like Bill and Melinda Gates, does make a really big contribution to improving life on this planet. I often re-read an article from the Australian published on Tuesday 21st January 2014 which talks about and aims to dispel the myths perpetuated about global poverty. The argument is that by any measure the world is better off and that the problem of people dying of starvation can be eliminated by 2035. Regardless of whether you believe this or not, I don't think anyone can argue that the eradication of polio is not right up there and that's down to the Gates Foundation.
Likewise I guess putting smart phones (computers & internet) in the hands of some of the poorest people on the planet has to become a game changer.
Name one thing about yourself that most people don't know.
I hold a car club motorsport record that can never be beaten. While it's not a particularly impressive time for a forced induction MX5 sports car, it was recorded at the old Latrobe Road hill climb that has now been dug up.
If you were stranded on a deserted island, what three things would you have and why?
A supply of good food;
My family and friends; and
A good wine cellar.
Who has inspired you in your life and why?
One of my heroes is William Wilberforce the British anti-slavery campaigner. He worked tirelessly on that one campaign for 40 years, on more than one occasion he turned down a cabinet post and made many other personal sacrifices and eventually prevailed through persistence and perseverance.