U3A Mirboo North & District – Tools for Tutors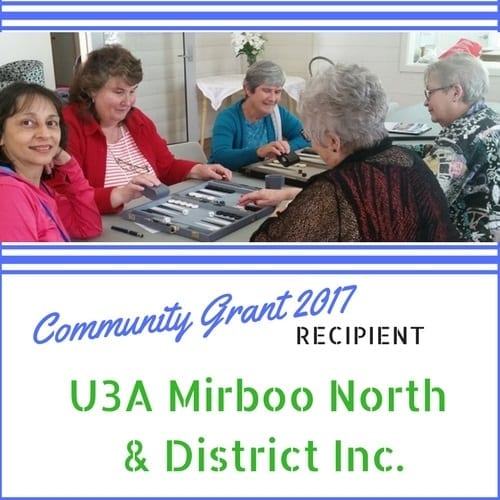 As many of you will know from a previous article for this newsletter, our business model is to provide our members with access to a range of interesting, interactive and social courses and activities all for the price of membership ($45 per year). The courses themselves are run by voluntary tutors, but we did need to ensure that our tutors had the necessary 'tools' to provide these courses. Portability of these tools was also very important to the ongoing viability of our courses and activities, as we operate from multiple venues in and around Mirboo North.
Therefore U3A Mirboo North & District Inc. applied for a Community Grant and was delighted to receive the support of the Mirboo North & District Community Foundation. This has meant that we have been able to purchase a laptop computer with Windows 10, Microsoft Office software, a printer and the required consumables, a data projector, four small first aid kits and some essential paper and folders to accommodate policy and procedure documents that underpin our operations.
These tools not only allow tutors to research and prepare learning materials, they also enable engagement with socially isolated members through online activities and social media opportunities. Audio and video recordings on the internet are now easily shared and facilitate practical applications. That's why we can offer a variety of learning tools to meet the discerning needs of our members.
Would you like to play Backgammon? Perhaps do a little Basket Weaving?
If that isn't your thing, this Term we are also offering Crochet and Knitting, Film Appreciation, Gardening, History, History of Science, How Things Work, Lunch-a-lots, Neurobics, Board Games, News in Review, Nutrition, Power Tools for Women, Swap 'n Share, Table Tennis and The Big Questions.
"U3A Mirboo North is very important for me. Generally I am not very social, but I have a great network of new friends and plenty of chances to meet with people with shared interests. It gives me a chance to speak freely without fear of judgement, so it's a big two thumbs up from me!" cited Margaret McDonald, a member who rarely strayed from her home but now participates in the Garden Club, Lunch-a-Lots, News in Review and History of Science.
2018 also provides a great opportunity to participate in the regional Creative Writing Achievement Celebration. Each U3A group in our region will teach the intricacies of writing short stories and poetry, culminating in an event to celebrate achievements under the guide of our dedicated volunteer tutors. This may even include some online sessions where expertise can be shared across the region, using our new equipment.
U3A is a gift to the community. Please accept it and embrace it in the grace it is given.
For more information, please visit our website, www.u3amnd.org.au. There you can join and enrol in as many courses and activities as your time permits! You may like to join our team as a tutor too.