The Community Foundation recently held a night to celebrate the completion of the "Girls Own Space" initiative in Mirboo North. The project has completely transformed its courtyard space, in front of Co-Space (the Community Foundation's building on Ridgway) with creative and beautifully designed community seating.
The Girls Own Space initiative involved artists working with young women to creatively transform public spaces in South Gippsland into inclusive and welcoming places using art. This involved the artists and participants in a design and planning phase followed by a construction phase. The resulting community seating utilises beautiful slabs of overlapping reclaimed timber on concrete plinths in an innovative and inclusive design. The seating was further enhanced with synthetic grass, two olive trees and a planter filled with lavender.
South Gippsland Shire brought Girls Owns Space to Mirboo North at the end of last year, running through to March when it was held up by the pandemic. With the design and planning completed in March, the construction phase was then completed in mid-November, when volunteers and participants came together to prepare and oil the reclaimed slabs of Cyprus and lift the slabs into their correct place on the various concrete plinths around the courtyard.
The celebration night was a wonderful opportunity to open the doors of Co-Space and invite everyone into the space to admire and use the new communal seating.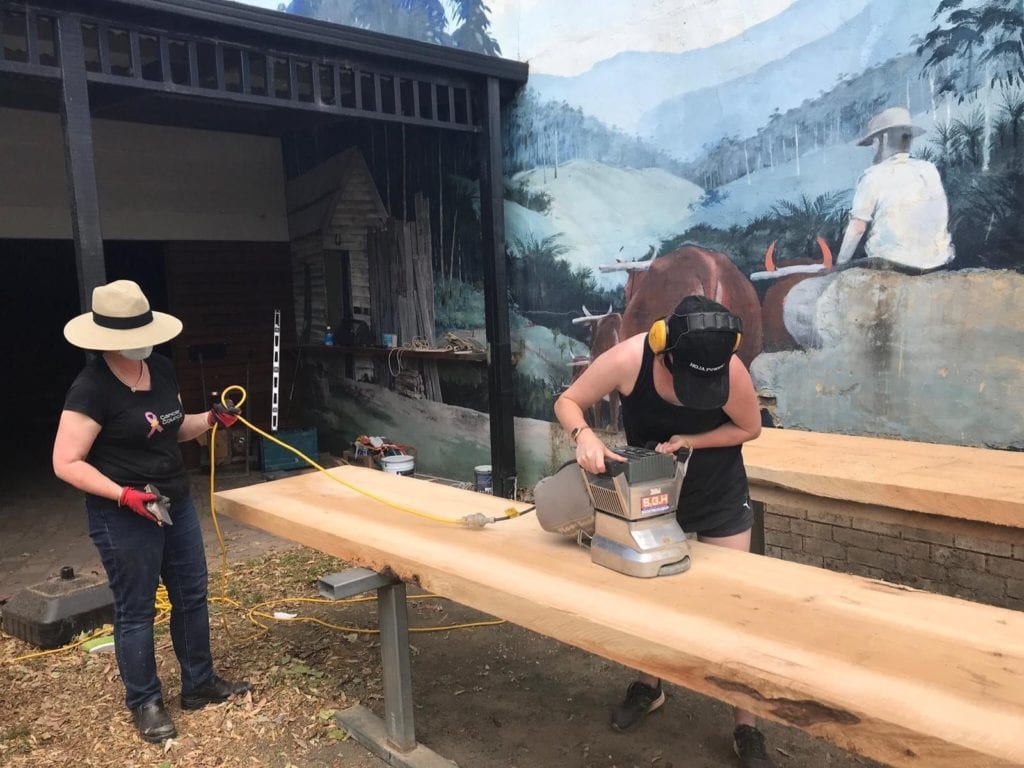 "I really enjoyed learning and designing together; then also the construction side of things. It was wonderful working as a group, with dedicated participants, who made it to every session. We all worked so hard to make it happen that it felt really satisfying when we looked at the beautiful, yet functional, seating we had created together," said Jenneke Kjilstra-Shone, one of the artists, who is an apprentice carpenter.
"It's been such a fun project, getting to know the participants; and now seeing the design in 3D, to scale, is wonderful. Projects like these are so important for gender equity: in community awareness that it brings, and empowering women to use skills that they wouldn't normally use and challenge those stereotypes," said Isley Sutherland, architect from IS Architecture, who facilitated the design of the project.
"Personally, in my work, I do work with men pretty much one hundred percent, so it's been fun to do some construction with other women!"
Isley said that while the project was for women, many men had helped along the way, and the resulting seating is for everyone in the community.
The project was possible due to a $85,000 Gender Equity Arts grant from VicHealth.
"We were delighted to be successful in our application to bring funding for four Girls Own Space projects to South Gippsland Shire," explained Mary Sullivan, Arts Officer at South Gippsland Shire, "particularly as arts projects which promote gender equity are relatively unusual and bring a range of wonderful outcomes to our communities. The project in Mirboo North hosted by the Community Foundation is a great demonstration of that. We also appreciate the fact that the Community Foundation put its faith into the Girls Own Space project, allowing the artists and participants to come up with a design for the space, while delivering a professional, extraordinary and heartfelt process. This project proves that community art doesn't have to be daggy; the finishing result here is actually very cool," concluded Mary.
"It was amazing that this awesome collaboration just arrived on our doorstep. The Community Foundation bought this building and created 'Co-space' for this very reason: to allow the community, individuals, business and organisations, to collaborate and connect for the greater community benefit," said Ruth Rogan, Executive Officer of the Community Foundation, who thanked the South Gippsland Shire for having the vision to seek funding for Girls Own Space. "We are absolutely blown away by the beautiful communal seating structure and would like to sincerely thank everyone including artists, participants and volunteers."
The Community Foundation has noticed lots of engagement in the courtyard space since the construction, by people of all ages. "We can see that the space will continue to develop to become such a good community space for years to come," concluded Ruth.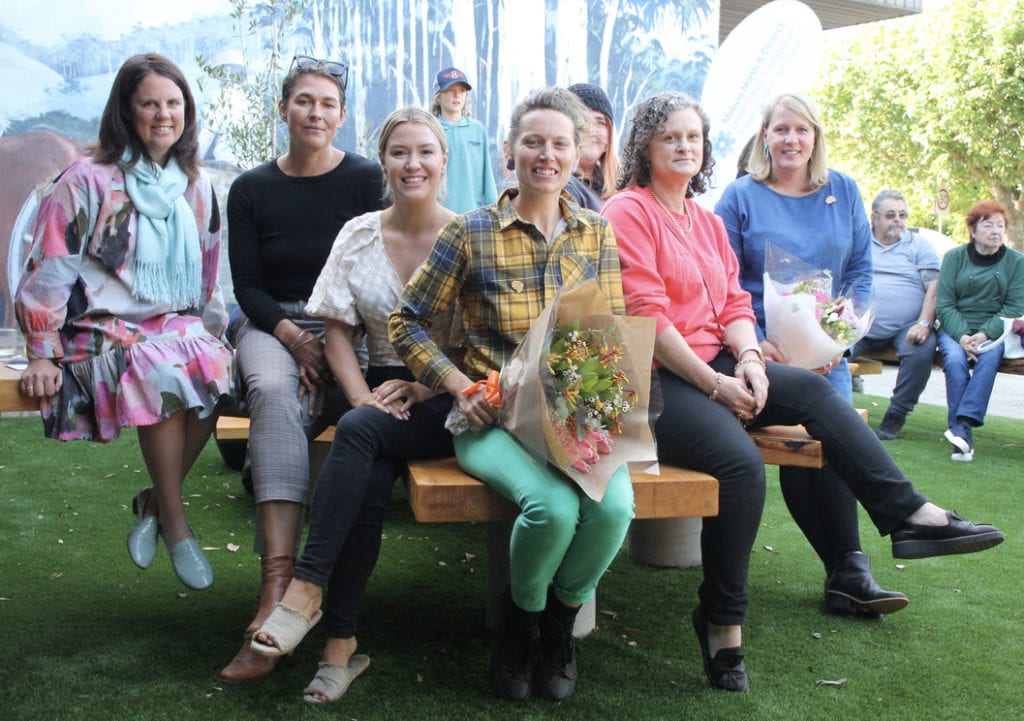 We'd encourage you all to come by and try out the space next time you are in Mirboo North.