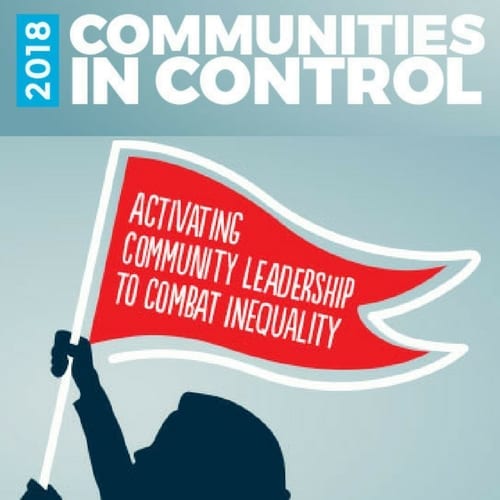 Communities have the Power, they've just got to learn to use it!
Lindsay Oates, Member of the Community Foundation, recently attended the Communities in Control Conference and brings us his highlights from the stimulating two day event.
A thousand delegates from across the country attended 'Communities in Control' at the end of May, an event where Australia's progressive leaders, thinkers and doers tackled the theme of "activating community leadership to combat inequality".
I was fortunate enough to be a sponsored delegate from the Mirboo North and District Community Foundation at this Not-For Profit Conference which was held over two days. The mood was upbeat, with delegates displaying the open-mindedness, determination and thirst for change that marked out this conference as unlike any other.
The delegates weren't left dismayed: a baker's dozen of great thinkers, achievers, activists and artists took to the podium to surprise, delight, and provoke. At times there were tears, at other times many smiles and laughter; delegates expressed angst and frustration but shared their successes.
Of the many excellent speakers, I highlight the following:
Gillian Triggs, former President, Australian Human Rights Commission
Professor Triggs' forceful address highlighted Australia's need "to regain its reputation as a land of fairness". She urged delegates "to take action to battle inequality wherever they found it".
Once Australia was feted around the globe for its leadership in helping forge the Universal Declaration of Human Rights, the model for any number of anti-discrimination and rights statements, but Professor Triggs lamented that since 2001, "we have been in retreat in fundamental freedoms in Australia".
To quote Professor Triggs, "Sometimes, those who try to change the world for the better are forced to deal with the criticism from those who would much rather things stayed the same". Professor Gillian Triggs' five-year stint at the helm of Australia's human rights watchdog exemplifies this: her relentless pursuit of justice, particularly in relation to children in detention, was met with political pressure to fall back.
We all need to ignore the critics if we are to lead change. On reflecting on her speech Prof. Triggs said the main message she aimed to deliver was this: "The communities have the power, they've just got to learn to use it."
Stan Grant, ABC Indigenous Affairs Editor and PM Advisor
"Sorry Day is not enough", said outspoken indigenous leader Stan Grant, two days after National Sorry Day, and more than a decade after Kevin Rudd issued his apology to indigenous groups in Federal Parliament.
The accomplished TV journalist told the delegates that "the question of indigenous rights fits into a global struggle for justice, recognition, and liberalism" and that recognition of indigenous groups remained as an essential ingredient for a world "awash with conflict".
He argued that it was time to address the "fundamental spiritual sovereignty" of indigenous Australians, and the "profound and powerful Uluru statement", which again seeks constitutional recognition for Australia's first inhabitants. Stan Grant received a standing ovation for his speech and answered some challenging questions.
Annabel Crabb, political journalist
Annabel Crabb was among the delegates' favourite speakers. She covered everything from her dealings with high-profile politicians such as the beleaguered Barnaby Joyce, and her recent appearance in Britain commentating on the royal wedding of Prince Harry and Meaghan Markle.
But at the heart of her speech was the massive divide between women and men in the home and workplace. As she put it, "things won't change at work, unless they change at home first". "This is the way change happens', she added, 'one guy takes parental leaves, and he comes back and he's still alive! And then the next year there's more."
And, as with all the conference speakers, she stressed it was the very people attending that had the power in their hands. "Everyone in this room is a vital part of this kind of change'.
For me, the most rewarding aspect was the experience of engaging with people from similar communities to ours across Australia, and sharing each of our learnings.
I thank the Mirboo North and District Community Foundation for the opportunity to attend. I also acknowledge the assistance of "Our Community" in preparing this article.