FRRR Back to School Vouchers 2018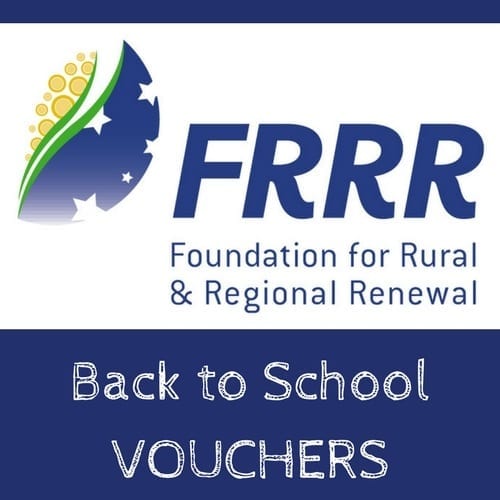 The Mirboo North & District Community Foundation is very pleased to have partnered with the Foundation for Rural and Regional Renewal (FRRR) again this year to bring the 'Back to School' program to our district. This is a national program run by FRRR aimed at helping students in rural and regional areas access quality educational experiences by providing $50 gift vouchers to students and families which are used for the essential back to school items like uniform, shoes, books, stationary etc.
This year, the Community Foundation has received $3,750 worth of gift vouchers, which are now being distributed amongst the Schools in our district, including Mirboo North Secondary College and the following Primary Schools: Mirboo North, Boolarra, Thorpdale, Narracan, and Yinnar. Since joining the program in 2012, vouchers to the value of $21,500 have been distributed by the Mirboo North & District Community Foundation.
FRRR is Australia's only national philanthropic Foundation dedicated to rural and regional Australia. It seeks to harness the power of collective investment between government, business and philanthropy to improve the lives of those working in rural and regional Australia. If you look closely enough you will realise that grants from FRRR have often funded or co-funded valuable projects in our rural area, for example at MN Primary School, MN Playgroup and Dumbalk Community Centre.
You can find out more about FRRR Back to School campaign for 2018 that saw them give out $565,000 in vouchers and help 11,000 rural kids go Back to School by reading their press release below or visiting their website at:
http://www.frrr.org.au/cb_pages/news/Back_to_School_Announcement_2018.php